Edit Current Bio
UCB is written collaboratively by you and our community of volunteers. Please edit and add contents by clicking on the add and edit links to the right of the content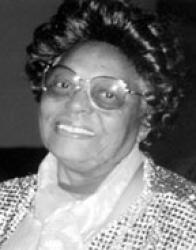 Carolyn Bernice McClester Thomas
Born on 1-22-1917. She was born in Swainsboro, GA. She was accomplished in the area of Community. She later died on 2-7-2009.
Basic Info
Attachments
Relations
Organizations
Accomplishments
Schools
Employers
Carolyn Bernice McClester Thomas, a native Georgian, was the daughter of James and Lula McClester. She was born in Swainsboro and completed her formal education in her home town. She is a graduate of Georgia State College and the University at Buffalo, and has completed post-graduate study at UB in the Social Sciences.

She was married to Eugene D. Thomas for sixty-two years and had been a Buffalo resident from 1952 until her death.

Mrs. Thomas was employed at Friendship House in Lackawanna for eleven years; at Child and Family Service Reach-out Program for seven years; and at Westminster Community House for five years. She also worked as a home economics teacher.

She was a member of Bethel AME Church for over forty-four years. She was a delegate to the AME General Conference Nine Quadrennials for thirty-six years and served on the powerful Episcopal Committee for twenty-four years. She founded and organized the first AME Missionary AREA Society in 1960 in Western New York and the entire connection AME Church.

She was a long-standing member of Federated Women's Clubs and organized the So-Re-Lit Debs of the Federated Women's Clubs (Teen Club). Mrs. Thomas also organized the Mary B. Talbert Civic and Cultural Club in Buffalo on February 3, 1974. Through this endeavor she sought to perpetuate the memory of this towering pioneer who made the City of Buffalo her home for many years.

Long before Dr. Martin Luther King's birthday was declared a holiday, Mrs. Thomas organized a group to recognize Dr. King on his birthday. Along with Mrs. Lottie Moore and Mrs. Hetty Pasco, a service was held annually on Dr. King's birthday and the group gave awards to Buffalonians, in keeping with Dr. King's ideals of freedom, peace and justice. Judge Barbara M Sims and Constance Eve received the group's Rosa Parks Award.

She considered her greatest achievement, in partnership with the Community Action Organization (CAO), to be the establishment of the Western New York Food Bank in 1980. This accomplishment occurred under her direction as President of the Board of Directors. Today, the Food Bank serves 97,000 people in four Western New York counties. Mrs. Thomas is now Chairperson Emeritus.

As a result of her work with the Food Bank, The Buffalo News recognized her as one of the Citizens of the Year in 1983. In addition, she was named Buffalonian of the Year (1990) by former Mayor James Griffin. She has received numerous other awards in recognition of her work including the Sojourner Truth Award by the National Association of Business and Professional Women (1970); Spotlight on Women Award by the Coalition of 100 Black Women (1985); Community Service Award by the NAACP (1985); Volunteer Service Award by the National Conference of Christians and Jews (1985); Evans-Young Award by the Buffalo Urban League (1988); the Queen of Bethel honor (1998) (her husband was honored as King of Bethel the following year); Inductee into the Western New York Women's Hall of Fame (1999); and named one of one hundred leaders in Western New York in the 20th Century (1999).

She was a member of Alpha Kappa Alpha Sorority, Inc., Gamma Phi Omega Chapter; the Lit-Mus Study Club; the National Federated Women's Club; and the Women's Missionary Society of Bethel AME Church.