Edit Current Bio
UCB is written collaboratively by you and our community of volunteers. Please edit and add contents by clicking on the add and edit links to the right of the content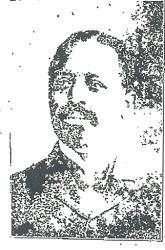 He is accomplished in the area of Legal.
Basic Info
Attachments
Relations
Organizations
Accomplishments
Schools
Employers
Albert Morris Thomas was a graduate of Fisk University, Nashville in the early 1880s and received a Bachelors of Law Degree from Yale University in 1884. The life of Albert Morris Thomas was one which might be envied by present day attorneys who aspire to do credit to the race. Mr. Thomas began his practice in Buffalo in 1885. Coming to Buffalo as a young man about 30 years old, he established a wonderful record of perseverance when obstacle after obstacle were put aside by a determined effort to win success in a community where only a handful of his race were living. Much could be said about his practice during the years of his residence in Buffalo when his prominence took him into the confidence of many very prominent lawyers in Buffalo, who admired his courage.

Mr. Thomas was a member of the Yale Alumni, a 32nd Degree Mason and served as a trustee of the Michigan Avenue Baptist Church. His six children were given education in local public and high schools and are living, married and have families going to school at this time. Only Edward H. has remained in Buffalo and is employed in the U.S. Mail Service. The oldest son is in Bridgeport, Connecticut and has a son going to college and himself a graduate of Dartmouth University is now contributing editor on the staff of the Bridgeport Post. The other children besides Charles A., mentioned above, Amy E., Annie L., George A. and Ruth I., are living in Cleveland, Ohio.

Mr. Thomas was prominent in politics and at one time was promoted by the local Republicans for the position of Minister to Haiti, losing only after Frederick Douglass succeeded in bringing sufficient pressure to wrest the laurels from him. Mr. Thomas left Buffalo in 1906 for Brooklyn, New York where he entered in to a partnership with a Mr. Ayler in the incorporated firm of Ayler & Thomas. His death in December of the same year cut short a very promising combination in race progress. His widow, Amy Casey Thomas, married after six years and passed away in 1929.

(From the Buffalo Star, June 29, 1934)

Albert Thomas was at one time, clerk of the Buffalo city court and was a candidate for city assessor. He also played a major role in the Pan American Exposition of 1901, as the highest ranked African American employee of the Exposition's Board of Managers.