Edit Current Bio
UCB is written collaboratively by you and our community of volunteers. Please edit and add contents by clicking on the add and edit links to the right of the content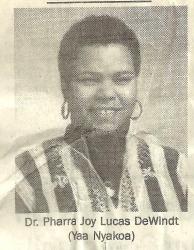 Dr. Pharra Joy Lucas Dewindt - Yaa Nyakoa
Born on 8-30-1957. She was born in Cleveland, Ohio. She was accomplished in the area of Education. She later died on 7-21-2005.
Basic Info
Attachments
Relations
Organizations
Accomplishments
Schools
Employers
Pharra Joy DeWindt was born on August 30, 1957, to June Sears Norris Michelson and Farrar A. Lucas. She grew up in Cleveland, Ohio and then moved to Rochester, New York where she attended and graduated from Nazareth College. During this time she met and married Hal Drew Dewindt and had a son, Steven Alexander DeWindt.

She earned her Bachelor's and Masters Degrees from Nazareth College and her Doctorate degree from the University at Buffalo and became an accomplished actress, performing in several plays throughout Rochester, New York.

As a teacher, Dr. DeWindt touched the lives of her many students and colleagues during her more than 15 years of teaching. She was repeatedly recognized in "Who's Who of American Teachers" and achieved many more accolades during her teaching career. Dr. DeWindt had been employed by the Buffalo Public Schools since 1991. She formerly taught English at McKinley High School where she became the coordinator for the Smaller Learning Communities Grant, a federal program at McKinley. She had previously taught at Black Rock Academy, where she coordinated the pilot project of City Voices/City Visions in conjunction with the University at Buffalo. The program aimed to improve student literacy by incorporating multimedia technology into their studies.

Her teaching concerns extended from the classrooms of Buffalo to those in Africa. As an expression of her vision of using technology to connect African American and African students in an educational exchange, Dr. DeWindt founded and served as the Executive Director of The Digital Literary Alliance (DLA), a non-profit organization dedicated to facilitating the educational advancement of the youth of Agona Duakwa, a village in the Central Region of Ghana, West Africa. Her dedication to her efforts is best expressed in the motto Dr. DeWindt selected for the DLA: "Literacy is the beginning of freedom." In one of her visits to Ghana, she was honored to receive the Royal African name of Yaa Nyakoa.

Dr. DeWindt was also awarded a Learning and Leadership Grant from the National Education Association. She was listed for six years in "Who's Who Among American Teachers" and in 1993 won a Fellowship Award for Scholarship from the University at Buffalo. She was also a member of the Executive Committee of the Buffalo Teachers Federation, the United University Professionals, the Education for Liberation Network and the National Council of Teachers of English. She was a member of the Trinity United Church of Christ, in Chicago, Illinois Pastored by the Rev. Jeremiah Wright, where she attended services online and provided regular financial contributions.

As a woman, lover and friend, Dr. DeWindt was beloved in all of her relationships and at the time of her tragic and all too early death, was planning to "remarry" her husband, Hal Drew DeWindt.

A devoted mother and grandmother, she is survived by her son, Steven Alexander DeWindt, her granddaughter Aaliyah Marie DeWindt; a sister Katherine and numerous other family members. Interment was in Forest Lawn Cemetery.