Edit Current Bio
UCB is written collaboratively by you and our community of volunteers. Please edit and add contents by clicking on the add and edit links to the right of the content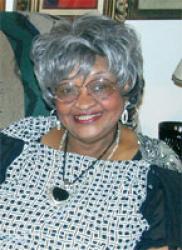 Born on 3-31-1933. She was born in Altus, OK.
Basic Info
Attachments
Relations
Organizations
Accomplishments
Schools
Employers
It was a windy day March 31, 1933 in Altus, Oklahoma that Mama, Beatrice Johnson Devine, shared the news with Dad, Purthy Devine, Jeannie and Lonnie that the baby was about to be born. But my father and soon-to-be older siblings had no idea when I was due. On this dusty afternoon, in a small spotless house at 708 South Blaine Street, Mama told dad the labor pains had started. Jeannie, my sister had gone to her voice lesson at the home of Mrs. Stella Parrish. Lonnie, my brother, was sent to the home of some neighbors to play with other children for the afternoon.

In the meantime, Dr. McConnell was summoned. Word was sent to several women friends that the baby was coming. They hurriedly left their households to help Beatrice. Some of the ladies were Mrs. Ted Kenyon (the principalâ??s wife), Lizzie Hall, and Ella Fields, mother of Elizabeth Fields. These mothers and grandmothers were experienced in child bearing and came to assist the doctor and comfort my mother in any way they could. Mama had everything prepared that the doctor would need to bring this baby into the world. Some of the ladies cooked while others sat and encouraged Mama. Her labor pains lasted two days. The doctor came near lunchtime and food was prepared before he arrived. There was cured ham, candied yams, and good ole mustard greens topped with some good friendâ??s apple pies.

Mama could have cared less about anything to eat, for the pains were so severe and she felt as if she was tormented. On the other hand, Dr. McConnell was impressed with the smells in the kitchen and was given the largest plate there was. He said he had to eat first in order to get that baby into the world. Several hours later, my mother delivered an 11 pound 12 oz. baby girl. My Aunt Katy from Bartlesville, Oklahoma, who worked for a wealthy Jewish family, named me after their daughter, Monetta Lazel.

Mama recovered quickly because she needed to go back to work to help with the family finances. She found a baby sitter and I adapted very well. Regardless of the circumstances of my hard delivery, I was very much loved by my family and was the apple of their eye. In other words, some might say that I was spoiled, but I also learned the importance of hard work and assuming personal responsibility. While growing up, there were people who were instrumental in helping with my direction toward being an adult. The school principals W. C. Davis, Aretis Davis, and G.E. Jones were legends in the community themselves. They were the power behind many studentsâ?? academic and life success during enrollment in Lincoln Elementary and High School. I recall when I was in the 4th grade, Mrs. E.M. Riley from Muskogee, OK produced a musical in which Aline Williams, Barbara Jean Wilson, Margie Carruthers and I had a special dance part. Mrs. Jones purchased the white silk stockings for all of us and we felt so special. They will always be remembered as a ruling force behind Black childrenâ??s education.

I graduated as Salutatorian of the class of 1950 from Lincoln High School in Altus, and went to Langston University. Because my dad could no longer give me his veteranâ??s check for college, due to hardship at home, I returned home. After doing so, I went to cosmetology school and owned and operated a beauty salon for twelve years. During this time, I met and married Staff Sergeant Herman Roberts who was stationed at Altus Air Force Base in 1953. Together we had a beautiful, versatile, intelligent baby girl. She was the joy of our lives as well as in the lives of her Grandparents. We named her Robbie Jean Roberts, in honor of her Dad, who was referred to as â??Robâ?? by his friends. She was the only child for eight years and was the apple of my eye.

Robbie went to pre-school at the age of 3 years of age. Her teacher was Mrs. Mary Williams. Mrs. Mary charged $4.00 a week, so I played the piano at the St. John Church, which paid $5.00 a Sunday to cover this fee. This position supplemented my income from my own successful business as a beautician. With the help of Ms. Mary, my mother and me, this child skipped the first grade and went to the 2nd grade at 6 years of age. She had read ten books, knew her 12 times tables and everything that a 1st grader should know. My baby grew and grew. She took piano, ballet, tap, saxophone, and every lesson I could afford.

Robbieâ??s father and I divorced in 1957, and I remarried in 1959 to Climon Quarles, another military man and father of all of my other children. In 1963, I had a beautiful baby son, Lonnie Anthony Quarles, who was a welcomed child by his parents, big sister, and grandparents. Soon after Lonnieâ??s birth, named after my brother, we were transferred to Paris, France at NATO. While living abroad, I experienced many exciting and interesting moments. In Paris, we went to the Paris American Church and met Martin Luther King and his wife, Coretta Scott, and Andrew Young. I was fortunate to also receive Dr. Kingâ??s autograph. I have the signed program from this event until this very day. During that time, I was a night supervisor at a childcare center, which housed approximately 70-80 children. This experience was to provide me with the background that would guide my work history upon my return to the United States 3 years later.

Robbie, Lonnie, and I, then pregnant, returned home from France to Altus after General Charles DeGaulle ousted all American GIs out of France. I immediately re-established my familyâ??s association with the church, which was always a part of our familyâ??s way of being. The Church was our redemption and each child was taught about Christ during and throughout early development. Two very important things happened while I was once again in the mist of family and friends. The first was that my second daughter, Tina Monique Quarles, was born. We were all thrilled with this new arrival and she was a cherished child.

The second thing to happen shaped my employment history. I arrived at the time Community Action was being organized. Since I had worked as a supervisor of a childcare center in Paris; I thought, why not go into the childcare industry? So, I tackled that job with great fervor. I became Center Director in 1969, as my friend, Edwina Smith, was leaving the position to teach at Western Oklahoma State College. Donna Hinton, the Tri-County Director and endearing and caring person, was my supervisor and advocate. In this position, to enhance my prior education, I attended Texas Southern University in Houston, Texas, Eastern Oklahoma State College at Wilberton, Oklahoma, Western Oklahoma State College in Altus, and enrolled in correspondence courses at the University of Oklahoma. These courses enabled me to be most effective in assuming the responsibilities of Director and Consultant. I worked in this capacity for 10 years.

Our lives together continued. Tina, a cherub at birth was musical, bright, and versatile. This birth was to be followed by that of my last child, Whitney Vladimir Quarles. All of my children were honor roll students, and at least one or the other at some time was in band, part of an athletic team (i.e., football and basketball), in the chorus, had membership in school social organizations, and/or participated as a cheerleader. They were all good children who made me very proud. They all graduated from high school with positive reputations in the community among their peers and teachers, too. Each attended college, and two completed their degrees and received graduate education. My youngest child is on staff as an aid at the Norman Municipal Hospital in Norman, Oklahoma; my baby girl has masterâ??s degrees in both communication and education and is currently an English and Drama high school teacher in our hometown; and, my eldest is a full professor and Director of the MA Counseling Program at Michigan State University. My second-born, Lonnie, died suddenly and unexpectedly in 1995 at the age of 32 years. At the time he was in the process of completing his degree at the University of Oklahoma and was employed as a computer analyst at that institution. He is very missed by all of us and will be missed forever. The hole left by his absence is filled with many fond memories and the happiness that existed just because of his presence. I had many dreams for my children. I have not been disappointed.

During the important time of the development of my younger children, my divorce from their father became final. I was trained as a nurseâ??s aide and was certified in this area of study while continuing my work with Community Action. I also worked at Jackson County Memorial Hospital for two years and also at the Vernon, Texas Mental Hospital for a year simultaneously. Now, the sole head of the household and single parent, I did all possible to insure that my childrenâ??s material needs were met. My last employment site was in a civil service position at Altus Air Force Base in Supply and Stock Control. Throughout my employment, my service to the community continued. I worked as a Jackson County registrant and even tried politics by running for City Council. Though I didnâ??t win, I went on to support Governor George Nighâ??s campaign in his two term-Gubernatorial campaigns. I was also the President of the Lincoln Alumni Association and supervised the first formal bi-annual reunions. After the high school graduation of my youngest child, who departed for college, I retired from employment for health reasons.

In 1994, I decided that no one had addressed the contributions African Americans had made to the Altus community. In the spirit with which I always attacked tasks before me, I did something about it. After gathering stories and pictures from friends and my own heritage, I compiled a 3-volume book of the â??Black Side of Life in Altusâ?. Stories of Black sheriffs and deputies, at a time when these were rare, were not available to the general public. I made it happen and now a new generation can enjoy the many stories of the African American families in this part of the country. Mission accomplished, but my work did not end there. I continue to help those in need through my activities as a member of the Church of Christ and as a community member. I live in Altus, Oklahoma and after giving of myself here for 50+ years, there is no other place where I would rather be.