Edit Current Bio
UCB is written collaboratively by you and our community of volunteers. Please edit and add contents by clicking on the add and edit links to the right of the content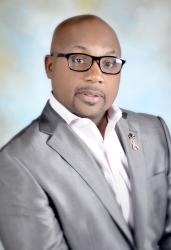 He was born in Buffalo, NY. He is accomplished in the area of Community.
Basic Info
Attachments
Relations
Organizations
Accomplishments
Schools
Employers
II Corinthians 4:9 ââ?¬â?? Persecuted, but not forsaken; cast down, but not destroyedââ?¬¦

A native of Buffalo, Leonard ("Lenny") E. Lane, one of 6 children born to Thelma and the late Elesta Lane, Sr., has been a servant to the community, and country, in many capacities. A product of Buffalo Public Schools, his decision to serve was encouraged by his miraculous survival of a tragic car accident, in 1979, that left him unconscious for three days. His life of servitude was propelled from there. In 1984, he enlisted in the United States Army National Guard where he meritoriously performed as a Communications Specialist for 8 years, and was awarded with several Honorable Mentions.

His continued zeal to humbly honor the community prompted him to become a Buffalo firefighter in 1987. In this capacity he held the office of Welfare Chairman of M.O.C.H.A. (Men of Color Helping All). This affiliation was instrumental in providing the support for the development and implementation of fire safety and prevention programs such as Safe Quest. He and fellow firefighters brought this instructional curriculum into the school system and through the local cable access network , and better equipped students on proper procedures for avoiding and protecting themselves from the often devastating hazards of fire.

As a firefighter, Leonard's efforts were honored with awards as Firefighter of the Year; Bravest of Western New York Award; the Commissioner's Citation Performance Award; and the Don Aker Humanitarian Award. He has also been featured in Living Prime Time Magazine, and in an autobiographical documentary, The Best is Yet to Come, that highlighted his tireless efforts to enhance the community heââ?¬â?¢s devoutly served.

A September 2000 shooting incident at his daughterââ?¬â?¢s school, Early Childhood Center #61, on Buffalo's eastside, mobilized Lenny and others to stand, and take charge and control of their children and community. From this strengthening effort, F.A.T.H.E.R.S. (Fathers Armed Together Helping to Educate, Restore, and Save) Group was formed. The mission of the group was, and continues to be, to advocate for peace and accountability for and among all members of the Western New York Community. As co-founder, Lenny has served as president of the organization since its inception.

Since its birth, F.A.T.H.E.R.S has helped thousands of young people through back-to-school and Christmas giveaways; job fares; Unity Weekends; Dog Days of Summer; Riding to Succeed; and escort service at the Galleria Mall; the and the continued support and protection of our community's most vulnerable assets, our children. Under Lennyââ?¬â?¢s leadership, the group has received numerous prestigious awards for their diligence, sacrifice, and volunteer hours in the community. Among these are: the FBI (Federal Bureau of Investigation) Director's Award; National Conference for Community Justice Award; NAACP Donald R. Acker Award; and the National Association of Black Law Enforcement Officers Chief Willie Smoot Community Service Award.

F.A.T.H.E.R.S., along with several other community support organizations, recently united to form the Peacemakers, a force of passionate individuals who are committed to ensuring the safety and security of all Western New York residents.

Lenny believes that blessed is the person who discovers which way God is moving, and then goes in that direction.

Though, Black Achiever, Leonard "Lenny" Lane, father of five and grandfather of four, and member of State Tabernacle C.O.G.I.C. is officially retired from a notable career as a firefighter, he remains steadfast in his service to his community. He is an inspiration to countless others in his active demonstration of tenacity and commitment to enhancing the quality of life for all, and his earnest desire is that his legacy will continue to 'pay it forward' through future generations.