Edit Current Bio
UCB is written collaboratively by you and our community of volunteers. Please edit and add contents by clicking on the add and edit links to the right of the content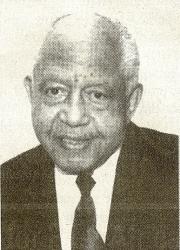 Born on 8-8-1918. He was born in Rushville, IN. He was accomplished in the area of Healthcare. He later died on 9-17-2009.
Basic Info
Attachments
Relations
Organizations
Accomplishments
Schools
Employers
Dr. Evans was a native of Rushville, Indiana. He held a BA in Chemistry, an MA in Chemistry from Indiana University and also an MD from the Indiana University School of Medicine. Dr. Evans was a veteran of World War II. He served as a medic in New Guinea and the Philippines.

He married Lydia T. Wright, also a physician following the completion of his internship and residency at Harlem Hospital in New York City. The couple moved to Buffalo in 1951 and opened offices the following year on Jefferson Avenue where they practiced for 36 years, retiring in 1988.

Dr. Evans, a general practitioner and internist was on the staff of Millard Fillmore Hospital and was a Clinical Associate Professor of Medicine at the University of Buffalo Medical School. He received many medical and community awards
.
Drs. Evans and Wright were the recipients of numerous awards, including the Red Jacket Award from the Buffalo and Erie County Historical Society. Dr. Evans received the Geneva B. Scruggs Award for Excellence in Health Care and the Medgar Evers Award from the NAACP. He was honored as one of 20 Black Achievers in Industry for his contributions to the improvement of interracial business and community relations.

He was a member of the Alpha Kappa Boule, the Pundit Club, the Upstate Medical Alliance and the Buffalo Equity Fund of which he was a founding member.

Dr. Evans served on the Health Planning Council of Western New York and the State Medical Misconduct Committee. He also served as Buffalo Chairman of the National Negro College Fund and Secretary of the Board of Trustees of the YMCA of Buffalo & Erie County.

Drs. Evans and Wright were the parents of Frank, Jr. and Tamara Evans Rowland and the grand-parents of two grandsons. Dr. Wright pre-deceased her husband. Both are buried at Forest Lawn Cemetery.