Edit Current Bio
UCB is written collaboratively by you and our community of volunteers. Please edit and add contents by clicking on the add and edit links to the right of the content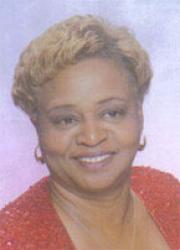 She was born in Taft, OK.
Basic Info
Attachments
Relations
Organizations
Accomplishments
Schools
Employers
Essie L. McIntosh was born and raised in Taft, Oklahoma. The oldest of six children, McIntosh grew up in the community that she now serves. Her parents were C.W. and Blanche Lee. A 1967 graduate, Essie received her education at Moton High School and credits her achievements to the wisdom that her elders passed on to her. She began a 30 plus year career in education and working with children, with the State of Oklahoma Childrenâ??s Center as a house parent. At the same time, she also worked at Moton School as a teacherâ??s aide. Since 1992, she has worked as an Independent Living Skills Specialist at the Parkview School for the Blind, teaching living skills to blind children.

After having served as vice-mayor, McIntosh was elected Taftâ??s mayor from April 2001 to April 2004. Following her term as mayor, she was elected as a Board member on the City Council, a position that she continues to hold. Taft, a community of 350 residents, is one of the still existing historic all Black communities in Oklahoma. Essie has worked to improve the community and is responsible for several grants that have been beneficial to her community. Under her administration, the city received grants that brought about the Taft Senior Center, an expansion of sewer lines, repairs to roads, and renovations to the town hall that included water lines.

McIntosh is a volunteer who thrives on helping others. In addition to her service on the board of the Muskogee Community Action Organization, she is a volunteer at a local nursing home, and the treasurer of New Life Ministries Womenâ??s Committee, Chairmen in building the first Fire Station and organizing the Fire Department in Taft, Oklahoma and President of The National Mayor Foundation, Inc.

Mrs. McIntosh says, â??I have seen changes come to our town, but now I have the power to bring about the change and to assist in the economic development of our community. I want Taft to be a town that everyone wants to visit and live in. I believe that great things will come but we must have unity among our people. One person cannot stand alone, it will take the entire community to make a difference.â?

Essie enjoys collecting antiques, sewing and catering. She is an expert arts and crafts maker, who specializes in hat making, weaving and crocheting. She also enjoys writing and traveling. One of her most memorable trips was to London, England. She also had visited Paris, France and Germany.

She has two children, Larry, Jr. and Venetta. She has three grandchildren, Cheyenne, Cherokee and Noah.