Edit Current Bio
UCB is written collaboratively by you and our community of volunteers. Please edit and add contents by clicking on the add and edit links to the right of the content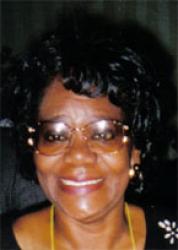 She was born in Shawnee, OK.
Basic Info
Attachments
Relations
Organizations
Accomplishments
Schools
Employers
Dorothy Lee Cooks, the daughter of Arthur and Jessie Lee Ervin Cooks, was born in Shawnee, Oklahoma, Pottawatomie County in 1948. Dorothy has eleven siblings. She is a graduate of Macomb High School.

She worked as an accounts information clerk with American National Bank and also served as the Deputy County Clerk of Pottawatomie County. She is a member of the Shawnee Jaycees and received the Governor #335 Award, the highest award given by the Oklahoma Jaycees.

Dorothy is a member of St. John's Baptist Church in Brooksville; member of Shawnee Fresh Fire Outreach; Board of Directors, Big Brothers/Big Sisters; Dunbar Heights Community Group. She is also a member of the Court Calanthe and the Court of Cawlante. She volunteers for the Shawnee Community Center; St. Gregory's University 5K Run; International Finals Rodeo; Operation Christmas, which prepares Christmas Bags for the elderly and handicapped. For four years, from 2002 to 2006, Dorothy has served as the coordinator of Shawnee's Juneteenth Celebration.