Edit Current Bio
UCB is written collaboratively by you and our community of volunteers. Please edit and add contents by clicking on the add and edit links to the right of the content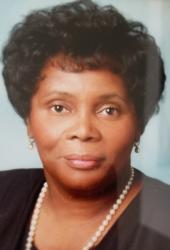 She was born in Montclair, NJ. She is accomplished in the area of Healthcare.
Basic Info
Attachments
Relations
Organizations
Accomplishments
Schools
Employers
Born and raised in Montclair, NJ, Barbara Brown has been a registered nurse for 38 years. Being inspired by her desire to help children, since she was in high school, she attended Howard University and graduated from the University of Medicine and Dentistry of NJ /School of Health Related Professions/ ECC, with an RN degree while working as an LPN. Her specialty was Pediatrics.

After graduating and working two years in Pediatrics in NJ, she and her husband, Dr. Edward I Brown, and their children moved here to the Western NY area. Here she has worked at several facilities giving nursing care to children and adult patients at Niagara Falls Memorial Hospital Pediatrics unit, The Health Care Center and with several nursing agencies.

In an effort to continue her education and move forward, she attended Niagara University and received her Bachelor of Science Degree in Nursing (BSN). Still anxious to continue her education, Barbara decided to continue at NU for one more year to begin working on her Nurse Practitioner degree. During that time, she began working with the Niagara Falls City School District and then the Erie County Health Department as a school nurse (until all nurses in Buffalo schools were replaced with agency nurses). She then went back to the Niagara Falls City School District again working as a school nurse.

After realizing that there was a need for more excellent, qualified nurses, Barbara began working at Niagara County Community College as a Clinical Instructor and then a Nursing Tutor (where she has retired from). Barbara has been inspired by a few people including her friend Josetta who continually encourages her. Barbara was a member of the Jack & Jill of America, Inc., Buffalo Chapter, (a mother's organization for her children), Regional and National positions and is a current member of the Alpha Kappa Alpha Sorority, Inc., Xi Epsilon Omega Chapter, and the Black Nurses Association of Western NY.

Barbara is happily married and she and her husband (Edward) have five children Dereke (Andrea), Tinese, Bryan (Heather), Nicole, Isaiah and six grandchildren (Brieanna (Jay), Marques, Myles, Aysa, Hardin Rae and Collier). She is a member of the New Hope Baptist Church of Niagara Falls, NY, where she says she is "honored" to serve our Heavenly Father and her church as a Deaconess and the Sunday School Superintendent. Her favorite scripture is "I can do all things through Christ who strengthens me" (Philippians 4:13).