Edit Current Bio
UCB is written collaboratively by you and our community of volunteers. Please edit and add contents by clicking on the add and edit links to the right of the content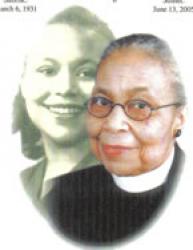 Born on 3-6-1931. She was born in Lackawanna, NY. She was accomplished in the area of Religion. She later died on 6-13-2005.
Basic Info
Attachments
Relations
Organizations
Accomplishments
Schools
Employers
Rev. Annie C. Hargrave Pinn was born on March 6, 1931 in Lackawanna, New York. She was the sixth child and first daughter of Ashley S., Sr. and Annie Whitehead Hargrave. Annie attended Roosevelt School in the Lackawanna public school system before completing her elementary school education at School 74, after her family moved to Buffalo. She graduated from Fosdick Masten High School.

Following graduation from high school she worked for many years as a Licensed Practical Nurse. After graduation from Rosary Hill College, she worked at the Erie County Medical Center followed by Sheehan Memorial Hospital as the Director of Medical Records.

Of her journey to the ministry, Rev. Pinn recalled that my earliest memories are going to First Baptist Church in Lackawanna, New York, located a few blocks from our home, where we saw and enjoyed being with our friends. It was during a Revival under the Pastorate of the Rev. James Thompson that I welcomed into my heart and life Jesus the Christ. I was baptized Easter Sunday morning 1944. When my family moved to Buffalo, we joined Trinity Baptist Church. There I remained until joining Agape AME Church in 1970. It was here at Agape that I accepted the Charge to Preach.

Rev. Pinn was ordained a Local Deacon by Bishop Hildebrand and Local Elder by Bishop Cummings. She served as the Pastor, with "joy and privilege", of Mount Zion AME Church. Rev. Pinn has the distinction of being the first woman President of the African Methodist Ministers' Alliance.

Rev. Pinn was the former wife of Raymond W. Pinn Sr. and was blessed with five wonderful children. She lost a son, Kenneth, in 1960. She also has five grandchildren and two great-grandchildren. Rev. Pinn died on June 13, 2005 at the age of 74. she is interred at Forest Lawn Cemetery in Rosewood Mausoleum.