Edit Current Bio
UCB is written collaboratively by you and our community of volunteers. Please edit and add contents by clicking on the add and edit links to the right of the content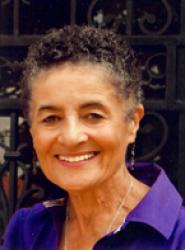 Born on 1-20-1936. She was born in Wildwood, Alberta.
Basic Info
Attachments
Relations
Organizations
Accomplishments
Schools
Employers
I am a Canadian citizen by birth, a U. S. citizen by naturalization, and a global citizen by spirit. I am now in my 8th decade. I believe deeply within my heart that we are all one human family and I choose to live my life in alignment with this belief.

I was born in Wildwood, Alberta, Canada on January 20, 1936 into a bi-racial marriage. My parents divorced when I was one year old, so I do not remember my father. Mother moved with me to Vancouver, Canada when I was six months old. Mother remarried a black man when I was five, and had four children with her second husband. I felt more connected to my Black Seminole heritage in this environment and still do. Mother had to work very hard and I took on a big part of raising my brothers and my sister. I admired my mother very much and when she said she was working ââ?¬Å?in service.ââ?¬ I decided that I wanted to work in service when I grew up. This has been a guiding principle in my life. I recall how much I loved my siblings. In addition to taking care of them, I picked berries and beans and gathered cascara bark.

I fell in love with the French language when I was in junior high school and decided to be a French teacher. A large part of this was because my first teacher, Monsieur Doubinsky, made the class so interesting and exciting! I tried to emulate his style when I was teaching. At 17, I moved to Minneapolis, Minnesota, in the U.S., and lived with an aunt, my motherââ?¬â?¢s sister. I worked in various office jobs and enrolled at the University of Minnesota. I majored in French and English. I recall joining the campus chapter of NAACP and was Publicity Chair. It was my responsibility and pleasure to invite Dr. Martin Luther King, Jr. to speak at the University. I was dismayed to see a largely empty auditorium when he spoke but appreciated his vision and graciousness.

I met Sandy Perry at St. Peterââ?¬â?¢s AME Church in 1956. He had moved to the Twin Cities (Minneapolis, St. Paul) to work with the Urban League. Six months later, we decided to marry. I continued my studies at the University of Minnesota. Our first child, Anne Noel, was born in December, 1958. Shortly thereafter, we moved to Omaha, Nebraska, where Sandy continued to work with the Urban League. Those days in Omaha were challenging due to the discrimination that was so strong. We both worked to alleviate this. I was completing my Bachelors degree. However, we decided that I would not complete work for my degree and start teaching because Negroes were only allowed to teach at the elementary level and there was no demand for French teachers in elementary education. Our son, Adam, was born in Omaha in 1961.

I loved being a mother and I found great joy in raising my children. Life was full, busy and rich being a wife, mother, and homemaker, and volunteering at nursery school. Also I was an active member of the Urban League Guild. There were swimming lessons, piano lessons, karate, tennis, etc. When Anne was three and Adam was one year old, we moved to Philadelphia, PA, where Sandy worked on his PhD in social work. We lived at a Friends Housing Co-operative in the center of old Philadelphia. We found the community very welcoming. I remember teaching French to a group of the residents while living there. We lived very simply and appreciated the diversity represented in the neighborhood. Our main outing was shopping for groceries once a week.

We moved to Chicago from Philadelphia and lived for several months at Hull House in old Chicago before finding a home in a housing cooperative in Lombard, Illinois. I joined Jack and Jillââ?¬â?¢s, an organization of African-American women focused on enhancing the lives of our children. I volunteered at the York Center Nursery School that Adam and Annie attended. I became a U. S. citizen while living in Illinois after intensive study and obtaining all the required references. I believed becoming a citizen was necessary to become a teacher. Later I learned that I could have dual citizenship, and plan to achieve this by the end of 2009.