Edit Current Bio
UCB is written collaboratively by you and our community of volunteers. Please edit and add contents by clicking on the add and edit links to the right of the content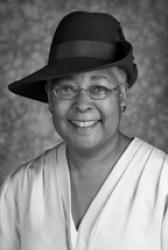 She was born in Rochester, New York.
Basic Info
Attachments
Relations
Organizations
Accomplishments
Schools
Employers
Ruth Brown Anderson is a native of Rochester , New York . She obtained her Bachelor of Arts degree from Oberlin College , earned her Elementary Education Certification through the University of Rochester , and received a Master of Science degree in Education from Nazareth College of Rochester. Mrs. Anderson served 23 years as an elementary school teacher and reading specialist in the Rochester City Schools.

In 1996 she retired from teaching. During her teaching career she collaborated with other educators to produce educational materials; most recently "Our Stories/Our Selves 19th Century Afro-Rochester" a multi-media interactive curriculum. Upon retirement she was awarded the Educational Service Award for distinguished service rendered to the Rochester City School District.

a few years later Mrs. Anderson began her present career as Executive Director of AKWAABA: the Heritage Associates, Inc., a non-profit educational organization formed in 1999 to perpetuate the history of the Underground Railroad in the Rochester area. She coordinates arrangements for group tours and AKWAABA's living history presentations, handles the financial matters and writes grants to secure funding.

She is a founding member of the United States Colored Troops Institute for Local History and Family Research and presently serves on the President's Advisory Committee. In 2003 the President of the Institute awarded her the President's Distinguished Service Award for research, preservation and remembrance of the United States Colored Troops and the Underground Railroad.

A member of the Board of Trustees of Geva Theatre Center, Mrs. Anderson serves on its Education Committee. She was elected to the Steering Committee of the Visitors Industry Council of the Greater Rochester Visitor's Association.

Mrs. Anderson is secretary of Akoma African American Women's Gospel Choir, which annually awards college scholarships to deserving African American women graduates of Rochester area schools. In addition, she is a founding member of the Blackstorytelling League of Rochester Inc., which is an affiliate of the National Association of Blackstorytellers. A passionate gardener she also enjoys reading and singing.

Married to David A. Anderson, Ruth and David are the parents of two adult sons and one adult daughter.