Edit Current Bio
UCB is written collaboratively by you and our community of volunteers. Please edit and add contents by clicking on the add and edit links to the right of the content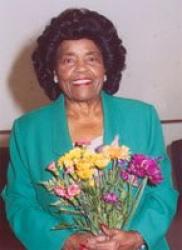 She was born in Muskogee, OK.
Basic Info
Attachments
Relations
Organizations
Accomplishments
Schools
Employers
Thelma Reece Parks was born in Muskogee, Oklahoma where she graduated from Manual Training High School. She matriculated to Langston University, graduating Cum Laude with a B.S. degree in Elementary Education in 1945. Mrs. Parks earned a MasterÃ?¢ââ??¬ââ??¢s degree from the University of Oklahoma with an emphasis in Guidance and a Professional Certificate in Guidance and Counseling from Central State University in Edmond, Oklahoma.

The sixth child of the nine children of Thomas and Estella Reece began a teaching career in Muskogee but not before she broke down a barrier associated with hiring practices. It was a matter of record in Muskogee that one could not teach in the school system from which they graduated. She taught at Wheatley Elementary School 4 years before moving to Oklahoma City and accepting a position as an elementary teacher at Dunbar Elementary School. After three years at Dunbar, Mrs. Parks was selected to go to Truman Elementary School, becoming among the first African Americans to teach in the first integrated school in Oklahoma City. In 1961, after three years at Truman, Dr. F. D. Moon, principal at Douglass High School, offered her a position as a reading teacher to teach juniors and seniors who could not read, making her the first reading teacher at Douglass. After that assignment, she taught 9th and 10th grade English at Douglass and, later, became Chairman of the English Department. In 1971, Mrs. Parks became the first African American Counselor at U. S. Grant School, three years before any African American student was admitted. Her position as Director of Guidance and Counseling signaled the end of an 18-year stay at Grant where she retired.

In 1987, she won the District 5 seat on the Oklahoma City Public Schools Board of Education. She continues to serve in that position where she has built an impressive list of achievements, including serving as President of the Board in 1993 where the largest bond issue ever passed in Oklahoma City for school improvement was completed. With those funds, every school in Oklahoma City received air conditioning and major/minor repairs to existing structures. Two brand new elementary schools were built and one was named the Thelma Reece Parks Elementary School.

Mrs. Parks has been recognized, nationally, for her work. In 1995, she was a finalist of the prestigious Richard R. Green Award from the Council of Great City Schools given to a select group of board members from around the nation. She became the first African American from the State of Oklahoma to serve on the National School Board AssociationÃ?¢ââ??¬ââ??¢s Board of Directors. Another Ã?¢ââ??¬Ã?â??firstÃ?¢ââ??¬Ã? came in 2002 when she was elected President of the National Black Caucus of School Board members.

She is the recipient of the Oklahoma City NAACP Life Time Achievement Award. Mrs. Parks has been inducted in the National Black College Alumni Hall of Fame in Atlanta, GA and the Nu African American Hall of Fame, Oklahoma City. She is a life member of the Urban League, Alpha Kappa Alpha Sorority, NAACP, National Sorority of Phi Delta Kappa and the Nu Arts Association. She is a member of the MayorÃ?¢ââ??¬ââ??¢s Committee on Disability Concerns, YWCA, Capitol Chamber of Commerce, Oklahoma State School Boards Association Board of Directors, League of Women Voters, and the EZ Empowerment Zone. She has served on many other community boards including the Oklahoma City Housing Authority where she served as chairman for 4 years and Langston University Alumni Association.

Some of her awards include Langston University Distinguished Alumnus Award, WhoÃ?¢ââ??¬ââ??¢s Who Among Black Americans, WhoÃ?¢ââ??¬ââ??¢s Who Among Women in the World, WhoÃ?¢ââ??¬ââ??¢s in America and Urban League Volunteer of the Year Award and the outstanding Public Service Award.

Mrs. Parks is a Trustee at Faith Memorial Baptist Church. This life long advocate of Education has always stepped forward for what she believes in, and children are at the top of that list. Her commitment is Ã?¢ââ??¬Ã?â??Children First!Ã?¢ââ??¬Ã? and service to all mankind.