Edit Current Bio
UCB is written collaboratively by you and our community of volunteers. Please edit and add contents by clicking on the add and edit links to the right of the content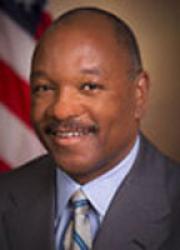 Born on 10-15-1955. He was born in New York City, New York.
Basic Info
Attachments
Relations
Organizations
Accomplishments
Schools
Employers
A native of New York City, Michael A. Battle was born on October 15, 1955. Battle is a 1976 graduate of Ithaca College where he earned a B.A. degree, cum laude. He entered the State University of New York at Buffalo law school from which he earned his JD degree in 1981. Following graduation and admission to the New York State Bar, he began his first job as a staff attorney for the Legal Aid Society in New York City, where he handled a wide range of cases, including numerous housing cases and landlord-tenant disputes. An opportunity to join the U.S. Attorney Office for the Western District of New York resulted in the Battle family relocating to Buffalo, New York in 1985.
From 1985 to 1992, he was an Assistant U.S. Attorney in Buffalo, where he served in the General Criminal Division, the Civil Division, and on the Organized Crime and Drug Enforcement Task Force. In 1992, he helped to establish the Rochester and Buffalo Federal Public Defender's Offices, where he served until 1995. From 1995 to 1996, he served as Assistant in Charge of the Buffalo office of the New York State Attorney General. In June 1996, he was appointed by Governor Pataki to serve as a judge on the Erie County (New York) Family Court and was elected the following November to a full 10-year term. Mr. Battle served as U.S. Attorney for the Western District of New York from January 2002 to May 2005. He has been a member of the Attorney General's Advisory Committee of U.S. Attorneys since January 2004, serving on the Subcommittees on Civil Rights, Sentencing Guidelines, and White Collar Fraud.
Battle began his service as Director of the Executive Office for United States Attorneys (EOUSA) at the Department of Justice on June 6, 2005. EOUSA provides oversight, coordination and support to 94 United States Attorneys Offices, including 93 presidentially-appointed United States Attorneys, 5,500 Assistant United States Attorneys, and 5,000 support staff employees. EOUSA works with the United States Attorneys Offices to implement and promote the President's and Attorney General's priority initiatives, particularly efforts to combat terrorism, corporate fraud, human trafficking, obscenity, gangs and dangerous narcotics, as well as efforts to support Project Safe Neighborhoods, the USA PATRIOT Act, the DNA Initiative, Violent Crime Impact Teams, and intellectual property. In addition, EOUSA also serves as a liaison between the U.S. Attorneys and other federal agencies and Department of Justice components.
Mr. Battle left the EOUSA in 2007 and joined the firm of Fulbright & Jaworski LLP as a partner in their Washington, D.C. office. At Fulbright, he focuses on commercial and civil litigation, as well as white-collar criminal matters.
Mr. Battle has an extensive history of community involvement including: Boy Scouts of America, Niagara Council; Center for Hospice & Palliative Care Board of Directors, Buffalo Law School ââ?¬â?? Alumni Association; Volunteer Lawyers Project of Western New York; Buffalo Weed and Seed; Minority Bar Association of Western New York; the 100 club of Buffalo & Western New York; NAACP; Buffalo Law School, Deanââ?¬â?¢s Advisory Council; YMCA of Greater Buffalo & Western New York.
He also is the recipient of numerous honors and awards; the Ebony & Ivory Award; South Christian Leadership Conference Community Service Award; Minority Bar Association Legal Award; the Buffalo News Citizen of the Year Award; Distinguished Alumni Award ââ?¬â?? UB Law School; Black Achiever in Industry Award; Cora P. Maloney Award from Grass Roots, Inc.; Ithaca College Visiting Multicultural Fellow Award; Business First 40 Under 40; Black Enterprises Magazine ââ?¬â?? one of the top 100 African American attorneys in the U.S. ââ?¬â?? 2005.
Battle has been married to the former Sheila Jones, who is also an Ithaca College alumnus. They have three children.