Edit Current Bio
UCB is written collaboratively by you and our community of volunteers. Please edit and add contents by clicking on the add and edit links to the right of the content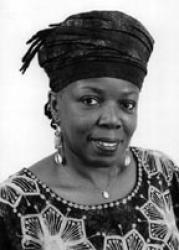 Born on 6-1-1947. She was born in Buffalo, NY. She is accomplished in the area of Education.
Basic Info
Attachments
Relations
Organizations
Accomplishments
Schools
Employers
Native Buffalonian, Karima Amin (nee Carol Ann Aiken), is a dedicated educator, educational consultant, published author, community activist, and full-time professional storyteller.

She was born on June 1, 1947 to Harvey and Bessie (Mabry) Aiken. She has two sisters, Elizabeth and Wendy Aiken. She has three children, Abdur, Takiyah, and Sabriyah who support and encourage her creativity.

Amin is a product of the Buffalo Public Schools (P.S. 75, P.S. 74, and Bennett High School) and the State University of New York at Buffalo, where she earned a B.A. in English/Secondary Education (1969) and an M.Ed. in Urban Education/Curriculum Development (1974). She has received numerous awards for 24 years of dedicated service to the Buffalo Public Schools. These honors include: Apple for the Teacher Award (Iota Phi Lambda, 1994); Teacher for Tomorrow Award (Buffalo Board of Education, 1978); and Black Educator of the Year (Black Educators' Association of Western New York, 1977). She resigned from the public schools in 1994, transforming an avocation, storytelling, into a vocation.

Amin's face is familiar in a community where she has been cited for several community service honors. In 2008, she was recognized as a community activist by Erie County Legislator Betty Jean Grant with the Harriet Tubman Community Service Award and Back to Basics Outreach Ministries, Inc. with the Special Interest Award. Umoja, Inc., in 2007, honored her as "Woman of the Year." In 2006 she received community leadership honors from both the Metro Development Community Corporation and the Coalition of Black Trade Unionists. Other awards include: the Daisy Lampkin Award (The Links, Incorporated, 2001); Community Leadership Award (Niagara University College of Education, 2001); Art Award (Alpha Kappa Alpha, Xi Epsilon Omega, 2000); Living Legend Award (Metropolitan United Methodist Church, 2000); Witness Our Women Award (Langston Hughes Institute, 1998); Outstanding Artist Service Award (Alpha Kappa Alpha, Gamma Phi Omega, 1997); Achievement Award (National Association of Negro Business and Professional Women's Clubs, Inc., 1994); and the William Wells Brown Award (Afro-American Historical Association of the Niagara Frontier, 1983). In all, she has received nearly forty citations for community service.

Amin's voice is familiar too. She has delivered thousands of storytelling performances, workshops, lecture demonstrations, keynotes, and libations for adults and children at a variety of venues. A long list of previous clients includes local radio and TV, the Buffalo Philharmonic Orchestra, the Albright-Knox Art Gallery, Toastmasters International, Artpark (Lewiston, NY), Strong Museum and Memorial Art Gallery (both Rochester, NY), the New York State Education Department (Albany, NY), the National Education Association and the Neighborhood Reinvestment Corporation (both Washington, DC), the International Education Consortium (St. Louis, MO), and the African Canadian Heritage Association (Toronto). Her popular storytelling on local radio, WBLK-FM, was a regular Monday morning feature for a decade, from 1994 to 2004. Amin was invited to Senegal, West Africa in 2002 to share stories on Goree Island at the Family Reunion Project Arts Festival.

Amin's first published work of note, Black Literature for High School Students, was a textbook she co-authored in 1979 with Barbara Dodds Stanford for the National Council of Teachers of English (Urbana, IL). Her most recent major work is, The Adventures of Brer Rabbit and Friends, a children's book, published in 1999 by Dorling Kindersley of London, England. In 1994, Galactic Multimedia (Buffalo, NY) produced You Can Say That Again an audiotape of Karima telling some of her favorite stories. In 2004, this audiotape was reissued by Do Tell Productions as a CD, with new music by local musician, WAYNE. It received a Parentsââ?¬â?¢ Choice Foundation Gold Award in 2005 and a Storytelling World Award in 2006. Adonis Productions (Amherst, NY) featured Karima telling stories on an educational video, "Kwanzaa: An African American Celebration". Her retellings of Wiley and the Hairy Man and The Legend of Annie Christmas appear in African American Children's Stories: A Treasury of Tradition and Pride (Lincolnwood, IL: Publications International, 2001), an anthology of songs, stories, and biographies. Two of Karima's original stories have been anthologized in My First Treasury: Grandma Loves You (Lincolnwood, IL: Publications International, 2003).

Amin is a past board member of Squeaky Wheel Media Arts Organization, Buffalo Quarters Historical Society and E.P.I.C. (Every Person Influences Children). She is a current board member of the Crossroads Storytelling Center, Inc. She is co-founder of several storytelling organizations: Tradition Keepers: Black Storytellers of Western New York (1996), We All Storytellers (with Sharon Holley, 1987), and Spin-A-Story Tellers of Western New York (1984). She is also a member of the National Storytelling Network, the National Association of Black Storytellers, 50 Women with a Vision, and Just Buffalo Literary Center, Inc. (Writer-in-Education since 1986).

She is a founding member of Daughters of Creative Sound, an African American women's percussion ensemble 2004) and the founder of Prisoners Are People Too, Inc. (2005), a monthly documentary film and speakers series which serves to educate the public about criminal justice and prison related issues.

Karima Amin is well known for her heartfelt enthusiasm and conscientious approach to her work. Her biography appears in Who's Who Among African Americans.