Edit Current Bio
UCB is written collaboratively by you and our community of volunteers. Please edit and add contents by clicking on the add and edit links to the right of the content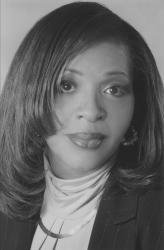 She was born in Niagara Falls, NY. She is accomplished in the area of Business.
Basic Info
Attachments
Relations
Organizations
Accomplishments
Schools
Employers
Alicia L. Lester was born to the proud parents of Belmira Hinto Lester from Niagara Falls, NY and James Lester from Harrisburg, PA in August of 1955.

Ms. Lester is a trained Senior Financial Analyst, and has worked for several banks within the Upstate New York region. She received her Bachelor of Science degree from Niagara University with concentrations in Commerce, Accounting and minor in Economics. Alicia is also a Certified Commercial Underwriter, an accreditation she received from the Robert Morris Association in Boston MA.

Alicia L. Lester is a celebrated dancer, who has received awards from across the United States, Canada and Europe. Competitive events include first place winner in the International Dance Organization's Tap Dance competition held in Riesa, Germany, and the North American National Tap Dance competition held in New York City. She has been trained by several well renowned teachers including Matthew Clark, Beverly Fletcher, Savion Glover and Bill Hotaling. Alicia has been in showcases with Gregory Hines, Jimmy Slyde and Buster Brown to name a few. Her portfolio includes commercials and various movies produced in the New York area.

Alicia is owner and CEO of 'Thunder Solutions', a marketing company specializing in interactive web sites, social media campaigns, promotional flyers, and advertising. She has been on several boards, and is the Co-Executive Director of the Miss Buffalo Scholarship Organization. Also, Alicia is a member of the Niagara Falls (NY) Chapter of The Links, Incorporated. Alicia is the mother of two sons, Delano E. Thompson and Michael E. Thompson Jr.