Edit Current Bio
UCB is written collaboratively by you and our community of volunteers. Please edit and add contents by clicking on the add and edit links to the right of the content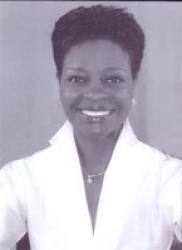 She was born in Oklahoma City, OK.
Basic Info
Attachments
Relations
Organizations
Accomplishments
Schools
Employers
Zora Brown is Special Assistant for Health and Minority Initiatives at INTEGRIS Health, Oklahoma City, Oklahoma. She is responsible for coordinating the Business Health Leadership Institute; the Oklahoma Chronic Disease Initiative; developing an agenda for the CEO to deal with diversity in the workplace; and expanding relationships with relevant community groups, among other issues. Zora Brown is founder and chairperson of Cancer Awareness Program Services (CAPS) and the Breast Cancer Resource Committee (BCRC). CAPS was organized on January 1, 1992 to institute a comprehensive cancer prevention program focusing on awareness and education targeting women, particularly women of color. Established in 1989, the goal of BCRC is to reduce the mortality rates from breast cancer among African American women by fifty percent. She is also founder of Rise, Sister, Rise, a breast cancer support group model for African American women. In 1996, Ms. Brown organized Men in Action Against Breast Cancer, a support arm of the Breast Cancer Resource Committee. In 2002 Ms. Brown, along with her nieces, founded SASSi (Sisters Accessing Skills for Survival and Intervention.)

Ms. Brown has served as a public relations consultant to Blackstar Communications, L.L.C. , a television station holding company and Broadcast Capital Fund, Inc. (BROADCAP), a leading small business investment firm, specializing in financing radio and television station ownership. She previously served as Vice President for Development and Public Affairs at BROADCAP. Since 1996, she has served as a consultant to the U.S. Conference of Mayors' Cancer Awareness Campaign; consultant to the Lombardi Comprehensive Cancer Center's Cancer Control program at Georgetown University Medical School. She is regularly engaged as an advisor on special projects involving disparities in healthcare for minorities and under-served communities. She has been an Assistant Director of Public Affairs for the Federal Communications Commission; Staff Assistant to U.S. House Majority Leader, Jim Wright; Administrative Assistant at the White House; and an assistant in the national affairs office of Ford Motor Company.

In 1991, Ms. Brown was appointed by President Bush to the National Cancer Advisory Board, National Cancer Institute, where she served until March 1998. She is past-chair of the Cancer Association of South Amca; she has co-chaired the Howard University Cancer Center Advisory Board, along with Dr. LaSalle Leffall. She serves on the Board of the Medical University of South AtTica Trust (MEDUNSA); member of the board, Hollings Cancer Center at the Medical University of South Carolina, Charleston, South Carolina; member of the Board, National Dialogue on Cancer (now C-Change); member of the board, National Coalition for Cancer Research; member of the board, Intercultural Cancer Council; member of the board, National Biomedical Research Foundation; member of the board, Friends of Cancer Research; member of the medical advisory board, CancerSource.com. She has served as a member of the Special Commission on Breast Cancer and the National Action Plan on Breast Cancer; and chair of the District of Columbia Cancer Consortium. She is also a member of AA W ARE (an AtTican American women's political action committee). Under her leadership, BCRC is responsible for the television broadcast production of A Celebration of Life: Rising Above Breast Cancer, broadcast on more than 200 PBS stations in its first airing. BCRC received a major grant trom the Avon Foundation, Inc. to launch a national fTanchise of Rise, Sister, Riseâ?¢. She is co-author of a book entitled, 100 Questions and Answers About Breast Cancer. She is currently working on a book with Dr. Harold Freeman. She co-produced a CD-ROM utilizing the breast cancer risk assessment tool set to original jazz.

Ms. Brown is an outspoken advocate for minority and women's health issues; presenting at both national and international forums. She was a featured speaker at both the 1992 and 2004 Republican National Convention. As a recognized leader in health communications and community outreach activities, Ms. Brown has received numerous awards and honors. Some of these include the 2001 Community Service Award trom Spelman College; the Magic Johnson Foundation, Gift of Life Award; Wider Opportunities for Women (WOW) Women at Work Advocacy Award; Hollings Cancer Center Distinguished Service Award; a proclamation trom former California Governor Pete Wilson; Special Cancer Control Service Award trom the National Cancer Institute; the Greater Southeast Healthcare System Foundation Service Award; the 1992 Susan G. Komen Foundation's Community Service Award; the 1993 Gretchen Posten Award, National Race for the Cure; the 1993 Cancer Survivorship Award trom the Greater Washington Coalition for Cancer Survivors; the first Washington Hospital Center "Making A Difference Award"; the AMC Cancer Center, St. Louis Chapter, Community Service Award; the 1996 C. Everett Koop Health Advocate A ward, American Hospital Association; the 1996 AVON Breast Cancer Leadership Award; and the 1996 Howard University Cancer Center Community Service Award. On November I, 1995 she received a special citation in the Congressional Record by U. S. Senator Fritz Hollings. Ms. Brown, along with Oprah WinfTey, was named one of the 1997 ten Women's Health Heroes, American Health for Women(a Reader's Digest publication).

Ms. Brown appears regularly on the networks and CNN and other media as an expert on women's health. There have been numerous magazine and newspaper articles written about the work of Ms. Brown and the organizations she has founded. She is a native of Oklahoma City, Oklahoma; attended Oklahoma State University, majoring in Business Administration. She is a twenty+ year survivor of breast cancer. Ms. Brown and her husband, Kenneth Rowland, reside in Oklahoma City, Oklahoma.