Edit Current Bio
UCB is written collaboratively by you and our community of volunteers. Please edit and add contents by clicking on the add and edit links to the right of the content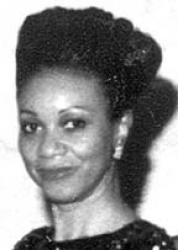 She was born in Andalusia, AL.
Basic Info
Attachments
Relations
Organizations
Accomplishments
Schools
Employers
Zola Crowell is a native of Andalusia, Alabama. Her parents, the late Lester and Lurine Cauley Lowery, moved the family to Niagara Falls, New York in the early 1950s. Zola has over thirty years of work experience with the Federal Government including the Veterans Medical Center, and the United States Postal Service. A graduate of the Niagara Falls Public School system, she attended the University at Buffalo's Millard Fillmore College and the Empire State College.

Zola has a long record of community service for which she has received numerous awards and recognitions. Her awards include: Special Contributions Award, the Veterans Medical Center; Community Service Award, The Links, Incorporated; Services to the Youth of Niagara Falls Award, The Links, Incorporated; Frontier Chapter American Business Women; and the New York Historical Awareness Award from the United States Postal Service.

Writing poetry and genealogy are among the activities of which Zola is most proud. One of her poems, "Childhood Memories," was presented to former First Lady, and current New York State Senator, Hillary Rodham Clinton. Genealogy has also been a favorite pastime and has led to the discovery of a great-great-grandmother named Charity Butler. Charity was born into slavery on the Butler plantation and lived to be 106 years of age.

Zola is actively involved in several professional and civic organizations including: The Niagara Falls Chapter of The Links, Incorporated; the Association of Black Social Workers; the Harriet Tubman 300's; the Black Pioneers of the Niagara Frontier; and the American Business Women's Association. She is a member of the First Shiloh Baptist Church; a former member of the choir, the Willing Workers; and The Mother's Club. Zola is also the proud mother of one daughter, Ingrid, a graduate of Johnson C. Smith University located in Charlotte, North Carolina.