Edit Current Bio
UCB is written collaboratively by you and our community of volunteers. Please edit and add contents by clicking on the add and edit links to the right of the content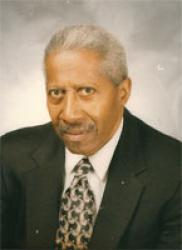 Born on 11-1-1922. He was born in Pittsburgh, PA. He was accomplished in the area of the Arts. He later died on 5-3-2014.
Basic Info
Attachments
Relations
Organizations
Accomplishments
Schools
Employers
William E. West was born on November 2, 1922 in Pittsburgh, Pennsylvania. His parents were Samuel A. and Loretta Jennings. The same year that he was born, he was adopted by his mother's sister, Mary Jane West and her husband, Prince Albert. When William was five years old, the family moved to Buffalo, New York.

William's family had connections with the Niagara Frontier long before he became a resident of Buffalo. His great-grandfather, William Henry, a run-away slave settled in Bertie County (Ridgeway), Ontario, Canada in 1840 at age 16. In 1851, he is recorded in the Bertie County census as age 27 with a son named Isaiah, age 1 year. Isaiah was William's grandfather.

William attended Buffalo Public Schools graduating from School 8 in 1937 and Fosdick Masten Park High School in 1941. In the fall of 1941, William was named Buffalo City Cross Country Champion. He attended the University at Buffalo for a year, from 1946-47, before enrolling in the Art Institute of Buffalo. He attended classes at the Art Institute from 1948 to 1957. In 1980, he received a Bachelor of Professional Studies Degree from Empire State College.

In 1978, Bill retired with 30 years service from the United States Postal Service. He was the foreman of the mail box section at the Main Post Office.

William West was a veteran of the United States Marine Corps. He served in the South Pacific Theater during World War II and was honorably discharged in 1946. In December of that year, he married Geraldine Summers. They were married nearly fifty years at the time of her death in 1994. The West's have four children, Sharon, Yvonne, Kadijah and William E. Jr. They have six grandchildren and nine great grandchildren.

William had been affiliated with three religious denominations; Christian Science from 1933 to 1946 and the United Church of Christ from 1959-1975. Since 1999, he had been affiliated with the United Methodist Church.

He served on a number of community organizations. He was the founder of the Eastside Community Cooperative and served that organization from 1968 to 1975. He was a former Board of Director's member of the Wider Horizons Reading Program; a member of the Supervisory Committee of the Buffalo Postal Community Federal Credit Union; BUILD Ellicott District Representative. He was a member of St. John's Lodge No. 16 Free and Accepted Masons Prince Hall and served as the Worshipful Master in 1982.

William began drawing at the age of six. He copied comics such as Tarzan, Buck Rogers, Tailspin Tom and Buzz Sawyer. He says of this early training that "This gave a good background in anatomy and landscape, although I did not know it then. Later, when I did formally study art I understood their principles better." West acknowledged a number of mentors, including: Robert Blair, Charles Burchfield, Catherine Koenig, Walter Prochownik, Joseph Fisher and David Pratt.

He has exhibited extensively at various locations; Albright-Knox Gallery, Burchfield Art Center, Erie County Community College's City Campus, the Wilcox Mansion, Art Council of Buffalo and Erie County, Keenan Center and the Chautauqua Center. His art can be found in the collections of Bethel AME Church, M&T Bank, the Buffalo Urban League and in various private collections.

His work has also been documented in a number of video productions and publications, including: City Scene on WIVB-TV; Oral History of Charles Burchfield; Friends of Art Institute, Wayward Muse Show and Beginning a New Century.