Edit Current Bio
UCB is written collaboratively by you and our community of volunteers. Please edit and add contents by clicking on the add and edit links to the right of the content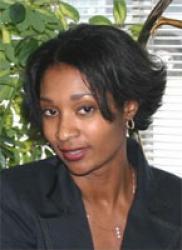 Vonzell Walker Murrell Solomon
Born on 11-11-1961. She was born in Enid, OK.
Basic Info
Attachments
Relations
Organizations
Accomplishments
Schools
Employers
Vonzell was born in November of 1961 in Enid, Oklahoma. The daughter of Palmor Jean (Mitchell) Solomon and Anthony Leo Solomon and (biological father ) Johnny Murrell. Ms Solomon has enjoyed loving relationships with her two fathers; both affectionately called ââ?¬Å?daddy".

Vonzell grew up in the church, a product of grandparents, Bishop Hulon Mitchell and Pearl (Leatherman) Mitchell, who were dedicated to the church and built and pastored churches across the State of Oklahoma.

Vonzell's childhood in Enid was filled with academic and athletic achievement, e.g., junior high and senior high class vice president, vice president of the Afro American Union, second black Homecoming Queen at Enid High School in 1980, member of the National Honor Society and represented the City of Enid in the Miss Black Oklahoma Pageant in 1980.

At Emerson Junior High School Vonzell achieved musically, academically and athletically as a member of the National Honor Society, School Basketball and Track Teams, while simultaneously running track for both Emerson Junior High School and Enid High School. While in that dual capacity she managed to win the Indian Nations Conference 100 yard dash and 220 yard dash for four consecutive years.

Vonzell received several ââ?¬Å?full ride" scholarship offers which included an Athletic Scholarship, in Basketball, to Phillips University in Enid. Vonzell accepted an Athletic and Academic Scholarship to Cowley County Community College in Arkansas City, Kansas.

In 1981 Vonzell married Lawrence Lee and moved to Miami, Florida. To that union were born three children; Yahshanah Lee, Marnina Lee (deceased) and Deuel Lawrence Lee. In 1988 Vonzell married John Walker and to that union was born Ishmael J. Walker. While in Miami, Vonzell started to exhibit an interest in business and was afforded the opportunity to manage a Food Co-op that delivered high quality natural food products to Inner-City Communities at affordable prices. Vonzell also worked as Bookkeeper for Gordon Jewelers at the Omni International in downtown Miami.

It was Vonzell's return to Oklahoma City in 2003 that turned a life time of musical and entertainment interest into a career. Vonzell comes from a family, once known as the Musical Mitchells from their 1960's radio show. This musical family has produced a world renowned Opera Singer Leona Mitchell and a world renowned Jazz, Blues and R&B Singer Tim Mitchell of Madrid Spain. Vonzell had always had an interest in the Music Industry and in 2003 she became manager for Gary Good Entertainment and Speakers Bureau, LLC; promoting, marketing, and producing talent and events for private, government and corporate clients, i.e., the Governor's Inaugural Ball, the opening of the Oklahoma History Museum, the Grand Re-opening of the Oklahoma City Civic Center and bookings of talents like, Vince Gill, Bill Cosby, and Reba McIntyre.

In 2005 Vonzell created a partnership with Ron Norwood and her brother Anthony Solomon II and established V&R Enterprise, a consulting firm. The creation of V&R Enterprise, headquartered in Oklahoma City, came primarily after identifying a niche market of municipal (public entity) capital projects with a specialty of developing hotels on Historically Black College and University (HBCU) Campuses. For capital project development V&R has established relationships with organizations like the National Conference of Black Mayors (NCBM), the National Organization of Black County Officials (NOBCO) and the National Association of Black Hotel Owners.

Grambling (Lincoln Parish) Louisiana has been selected as the first hotel and capital projects development site, with a contract to develop a hotel and event center, 400 -room dorm style student housing, a 50-unit apartment for faculty, a museum honoring legendary Coach Eddie Robinson, and an amphitheater.

The V&R vision is to build hotels on HBCU's across the United States and develop public/private partnering for university capital projects. However, V&R's crowning achievement has been the development of a program designed to ensure that Small and especially Minority Contractors participate in the re-development of the Gulf South. This Small Contractor Inclusion Program (SCIP) is a comprehensive program developed to address the barriers that traditionally served to impede the inclusion of small, minority, and women owned business in especially public entity construction projects. This Small Contractor Inclusion Program has been submitted to the US Department of Commerce for inclusion as a DOC required program.

Vonzell currently serves as a board member of the Southern Heights Heritage Center and Museum in Enid, Oklahoma and on the board of the Johnson Foundation of Oklahoma City, which works to provide musical instruments for Inner-City Children.