Edit Current Bio
UCB is written collaboratively by you and our community of volunteers. Please edit and add contents by clicking on the add and edit links to the right of the content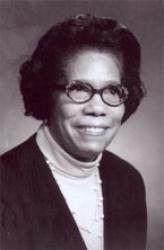 Valerie Inez Parker Carolina
Born on 5-19-1917. She was born in Spiro, OK.
Basic Info
Attachments
Relations
Organizations
Accomplishments
Schools
Employers
Valerie Inez Parker Carolina, the daughter of Thedford and Myrtle Parker, was born on May 19, 1917, in Spiro, Oklahoma. She graduated from Lincoln High School in Fort Smith, Arkansas, and received degrees from Langston University (B.A., 1939) and the University of Oklahoma (M.Ed., 1967).

While at Langston University, she met Charles G. Carolina whom she married in 1940. To this union two sons were born-Charles Michael and Sammy Leon. Valerie dedicated 38 years to the teaching profession, the last 18 of those years in the New Lima, Oklahoma Public Schools, several southeastern Oklahoma schools and in San Angelo, Texas. While in the Wewoka School System, she was honored as the Oklahoma Teacher of the Year for 1973, and an award for Best Teacher bestowed by the Governor of Oklahoma. She was ubsequently nominated by the Governor of Oklahoma for the Outstanding Teacher of the Year Award for 1974.

Valerie was active in many community activities, including the St. Paul Baptist Church in Wewoka, the Wewoka Library, the Wewoka Election Board, the Oklahoma Education Association, the National Education Association, and the Seminole, Oklahoma County Retired Teacher's Association.