Edit Current Bio
UCB is written collaboratively by you and our community of volunteers. Please edit and add contents by clicking on the add and edit links to the right of the content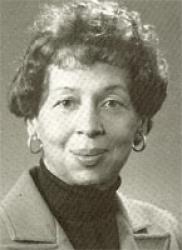 She was born in Gutherie, OK. She is accomplished in the area of Education.
Basic Info
Attachments
Relations
Organizations
Accomplishments
Schools
Employers
Ruth Ellison Swain represents three generations of Black educators as her grandmother, her mother and her father were teachers. Her grandmother, Mrs. Fannie Ellison, directed a private school for elementary children in Helena, Arkansas in the 1880s. Her mother, Mrs. Ora Ellison, was a primary teacher in the same city before she married and moved to Oklahoma. Her father, Joseph E. Ellison graduated from Fisk University in 1910 and taught science in Guthrie and at Prairie View A&M College in Texas.

Mrs. Swains' educational career spanned 41 years. She developed the minds of young people and inspired them to understand and appreciate American and World History. She taught in the Guthrie Public Schools for 25 years and retired from the Social Science department of Langston University after teaching there for 16 years. Mrs. Swain is listed as Professor Emeritus. Her interest in historical research led to her becoming a published author. As a talented writer she gives a vivid understanding of racism in American history in her book "Ada Lois --â?? the Sipuel Story" (Ada Lois Sipuel Fisher integrated the University of Oklahoma School of Law).

Mrs. Swain epitomizes the core values of teaching and public service. Recently, she was awarded a Fifty Year membership certificate from the Oklahoma Federation of Colored Women's Clubs, Inc. She is a member of Guthrie's Deagymian Club, where they live the national motto of "Lifting as We Climb".

Also, she is a loyal and supportive member of Guthrie's First National Baptist Church. In order to encourage young people to continue and value education, she provides tuition and book scholarships.