Edit Current Bio
UCB is written collaboratively by you and our community of volunteers. Please edit and add contents by clicking on the add and edit links to the right of the content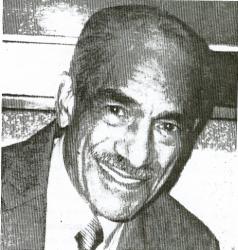 Born on 12-16-1911. He was born in Buffalo, NY. He later died on 12-5-1997.
Basic Info
Attachments
Relations
Organizations
Accomplishments
Schools
Employers
Robert Duncan Edwards was born in Buffalo, New York and as an infant he was baptized and later confirmed a member of St. Philip's Episcopal Church in Buffalo, where he helped start the St. Philip's Memorial Fund. At St. Philip's, he served as Senior Warden and he was an active member of the choir and Men's Club.

He joined the Post Office Department in 1942 as a substitute clerk and advanced through seven promotions to superintendent where he supervised 80 employees at the station which had receipts of more than $2 million a year. After 32 years as a civil servant he retired in 1973 as the Postal Superintendent of the Ellicott Post Office Station. He was the highest ranking African American in the postal service in the region, outside metropolitan New York City. He was also recognized for his integrity and fairness by serving as a Postal Service hearing Officer to adjudicate grievance appeals filed by postal employees throughout New York State. His respect and love for his employees were reciprocal. During his memorial service at St. Phillip's one of his former co-workers arose from the pew to say that "Bob was the best boss I have had."

He was a 1929 graduate of Fosdick-Masten Park High School in Buffalo. He was active in school sports and was selected All-High track and basketball and a member of the Yale Cup Team for three straight years. He also received the rank of Eagle Scout. Bob earned a B.S. degree with honors in chemistry from Knoxville College, in Knoxville Tennessee in 1934. At Knoxville College he was president of his freshman, sophomore and junior class. He lettered in basketball and track, was a member of the Glee Club, Thespian Club and Science Club. It was during a basketball game against Tuskegee Institute (now University) that he met one of his heroes, George Washington Carver. He was a member of Rho Lambda Chapter of Alpha Phi Alpha Fraternity Inc.
Dearly loved and respected by family and friends, Bob maintained a devotion to his Christian faith, his sense of integrity and his incredible wit and humor to the last. He made his transition in Atlanta, Georgia, the home of his son and daughter-in- law.

Robert was married 43 wonderful years to Lorraine Verdun Jarrett Edwards who made her transition in October 1984. The couple had two children, Lois Lorraine Edwards Johnson, an educator, and Donald P. Edwards, an attorney. They also had four grandchildren and four great grandchildren.