Edit Current Bio
UCB is written collaboratively by you and our community of volunteers. Please edit and add contents by clicking on the add and edit links to the right of the content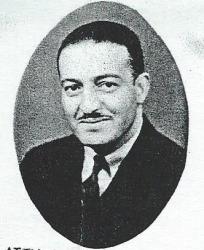 Born on 1-18-1906. He was born in Atlantic City, NJ. He was accomplished in the area of Legal. He later died on 7-30-1981.
Basic Info
Attachments
Relations
Organizations
Accomplishments
Schools
Employers
Robert A. Burrell was born on January 18, 1906 in Atlantic City, New Jersey. His parents, Lewis Lloyd Burrell and Carrie Pinkett Burrell were natives of Virginia, Berryville and Luray, respectively. Burrell attended Pleasantville High School in Pleasantville, New Jersey graduating in 1923. he received an A.B. degree in Liberal Arts at Howard University in 1930 and his law degree in 1934 from Howard University, School of Law, graduating first in his class. He was a classmate of Thurgood Marshall. He was a member of the first Negro Quartet, the Agreeable Four, to sing professionally over Radio station WRC in Washington, D.C.

He was admitted to the Bar of the State of New York in April of 1936 and began active practice immediately. He began an active practice in Buffalo in November, 1936. In 1941, he became an assistant Erie County District Attorney and the first black person appointed to that position. In 1961 he was appointed Buffalo's senior deputy corporation counsel. in 1971, Burrell was appointed Buffalo City Court Judge. He was the second black elected associated city court judge after being appointed to succeed Wilber P. Trammell. He retired on January 1, 1977.

Burrell served in the 514th Quartermaster Group Headquarters, Third Army, European Theater during World War II, from March 1943 to November 1945 and was awarded 5 campaign ribbons as a result of his service. He served as a Staff Sargent in General Patton's Third Army.

He was active in the community in the following organizations: President of Crispus Attucks Republican League of New York State, member of the Speakers' Bureau of Republican Party, Buffalo and Erie County; Board member of the Urban League, Buffalo; Charter member of New York State Citizens' Committee for the Public Schools, Member of the Michigan Avenue YMCA Trustee Board, NAACP, Board of Community Chest of Buffalo and Erie County; member of Buffalo Committee on Full Employment; member of Advisory Committee of University of Buffalo Development Program, Member of AMVETS; he received the Ray Sawyer Award for Outstanding and Distinguished Service presented by AMVETS; and Veterans Award for Outstanding Community Service presented by Joint Veterans Council of Erie County.

Judge Burrell was married to Dr. Anna Porter Burrell. They had no children.

He is buried at Forest Lawn Cemetery in Buffalo, New York.