Edit Current Bio
UCB is written collaboratively by you and our community of volunteers. Please edit and add contents by clicking on the add and edit links to the right of the content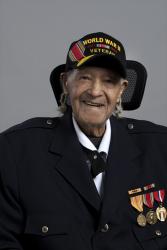 Born on 2-20-1923. He was born in Bazemore, AL. He is accomplished in the area of Community.
Basic Info
Attachments
Relations
Organizations
Accomplishments
Schools
Employers
It is Black History Month, and today we salute Living Black History. Mr. Paul Woods, a World War II veteran, fought in the Pacific Theater earning three Bronze Stars and a Liberation of the Philippines Medal. He is the father of 15, grandfather of 28, and great-grandfather of 18 children. Many things have changed in Paul's 99 years of life.


As a child, Paul walked ten miles to a one-room schoolhouse to get his education. Schools were segregated then. He went on to serve in a segregated United States Army at a time when Joe Louis - the World Heavyweight Boxing Champion, could not eat at a restaurant in his hometown. Paul and his wife Mary attended the 16th Street Baptist Church in Birmingham, Alabama where three little girls were blown up during the civil rights struggle. 45 years later, the country elected it's first Black President and the country has gone from segregation to integration! As Dr. Martin Luther King Jr. said, I HAVE A DREAM! Mr. Woods is living the dream. He has been honored by the Erie County Legislature, the Mayor of the City of Buffalo, the Mayor of the Village of Angola, and the City of Buffalo Common Council for his service to his country, his 33 years at the Bethlehem Steel Plant, and 59 years of marriage, and has been honored as Foster Parent of the Year by New York State for raising foster children.


In April 2012, Honor Flight honored Paul Woods and 30 other World War II veterans with a flight to the WWII Memorial in Washington, D.C. Most WWII veterans had died before the memorial was built. On his 93rd birthday, American Legion Post #430 Jessie Clipper Post presented Paul Woods with the medals he earned in WWII which had long been lost or misplaced.


In December 2017, Paul went on his dream trip to Australia where he served during WWII. He was received by the U.S. Consulate General, Valerie Fowler, and it was broadcast across Australian media that a WWII hero had returned to the land that he helped to save.

A Short Biography

His Beginnings Paul Woods was born in Bazemore, Alabama on February 20, 1923, to Nora Fields Woods and Anderson Sherman Woods. Paul had two brothers - Willie Houston and Sherman and four sisters -Susie, Mary, Flora, and Mollie. He also had seven half brothers and sisters from his father's first three wives. In the 1800s people died young. Paul's father died when Paul was only seven years old. The children were split up at the gravesite of his father and given to relatives to raise. Paul promised his three-year-old little brother Sherman that he would take care of him. He kept that promise and has been taking care of people all his life. Paul was raised by his wealthy Uncle Henry. They rode in a Model T Ford when most African Americans didn't even have a horse.


Army Veteran In 1941 when he was 17, Paul joined the United States Army and was immediately shipped to the Philippines to fight in World War II. He served four years from 1941 - 1945. Paul tells of having invaded the Philippines in LST990- boats, landing on the beaches under fire, and waking up with gunpowder instead of coffee in his metal cup. He received three Bronze Stars and a Liberation Medal during the invasion. In his Military Occupational Specialty (MOS), he served as a Truck Driver who delivered ammunition all across Australia and barely escaped injury when his truck was blown up in the war. Paul says "A bullet knows no race, rank, or status. We were all brothers on the battlefield."


Steel Worker Paul and his wife Mary came to Buffalo, New York in 1953 with three little children in tow - Gwen, Flora and Paulette. Paul became employed at Bethlehem Steel Corporation in July of 1954 and continued to work there for the next 31 years until the plant closed. He worked 16 hours a day, working nine shifts a week to feed his growing family. His family grew to 14 children including four sets of twins. Born in Western New York were Paul and Pearl (twins, both deceased), Theresa and deceased twin Theodore (deceased as an infant), Darline and Linnette and deceased twin brother Leonard. Leonard was a Marine, brave like his father, and a wrestling champion. Also born in Western New York were Thurman ("Rick," "Bro Man", decreased), Duane, twins Vincent and Vendetter and Raynard, the baby. Yes, Paul needed four extra double shifts to feed, clothe, and raise his fourteen children.


Super Parent Paul and Mary had a new home built in Angola, New York in 1966. They moved the family from Lackawanna, New York to a five acre farm in the rural southtowns of Buffalo. Paul always said "When you're sitting at the table of knowledge, eat hearty!" He and his wife Mary emphasized education as the answer to ignorance and prejudice. Paul didn't accept any differences in the races - his friends were white and black and all were welcome in his house.


All of Paul's children went to college and several attended graduate school and have Master's degrees. Several of Paul's children followed in his footsteps, serving in the military: Paulette - 402 Civil Affair Battalion; Darline - U.S. Army; Vincent - U.S. Army Drill Sergeant and Chaplain; Leonard - U.S. Marine Corp and Vendetter - U.S. Navy. Paul's son-in-law Fredrick K. Eckles is a Vietnam veteran and a retired Angola Police Lieutenant. Paul's grandson Lamont served 7 years in the U.S. Army stationed in Korea. Several of Paul's children went into the helping professions - nursing, social work, and government. Linnette is a Registered Nurse and Gwen is a Licensed Practical Nurse. Flora and Darline are Social Workers and Case Managers. Paulette and Theresa work in county government. Thurman was a Corrections Officer and Engineer and Paul's youngest son Raynard is an Engineer. Duane worked as a Manager with New Era Cap Company and Vincent was a Fireman. Vendetter retired after 20 years in the U.S. Navy as a Senior Chief on the Eisenhower Aircraft carrier. She was following Uncle Sherman's footsteps as a career Navy man. We would also like to acknowledge Paul's oldest daughter - Hillary Minter who was born before his marriage to Mary. Paul is proud of all his children.


Super Granddad Paul always beamed a warm smile to his 28 grandchildren: Fredrick II (an LPN); Lamont, Tiffany, and Nicole Eckles; Lance Lionel Woods; Cherita Brice; Lillian, Randall and Paul Imes; Aaron Bailey; Thomas Neal; Cheron and Jennifer Woods; Jenell, Dominique, Shantell, and Joshua Woods; Philip, Jeremiah, Arrianna and Elizabeth Woods; Devon, Caila Choline, Michael Jr., Christa, Cheron II, and Carlee. He helped raise, discipline, babysit and encourage all of his grandchildren. Many have careers in law enforcement.


Super Great Granddad Paul is great grandfather to 18: Lamaja, Fredrick III, Lamont Jr., Hallie, Branden, Deshanae', Aaron Paul, Yves, Yvette, Kimera, Xzavier, Bennett, Bethany, Kalyssa, Devon, Lennox, Roberta, and Christian. Yes, from ages 1 - 16 they stayed with Great Grandpa - he babysat them too.


Foster Parent of the Year Paul and his late wife were licensed as Foster Care Providers through Randolph Child and Adolescent Services. They received many awards and were honored as Foster Parents of the Year in 1997 for their love and care to troubled youth.


Provider and Husband For 59 years, Paul loved Mary and Mary loved Paul. They were inseparable! Every day they drove to Buffalo from Angola to check on their children and to check on and maintain their rental property. Paul refuses to be a "slum lord" - his property is well-maintained. On December 29, 2006, Mary T. Woods said "See you later" to her darling husband. He had warmed her feet and cared for her.


NOW THE PATRIARCH STANDS ALONE TO GUARD AND GIVE WISDOM TO HIS CHILDREN.
Paul says "Charity begins at home! Cease from anger and don't let the devil take God from you!" He worships at Peace of Prince Temple Church of God in Christ. He truly exemplifies I Corinthians 13:4-8a which reads "Charity suffereth long and is kind; charity envieth not; charity vaunteth not itself, is not puffed up, Doth not behave itself unseemly, seeketh not her own, is not easily provoked, thinketh no evil; Rejoiceth not in iniquity, but rejoiceth in the truth; Beareth all things, believeth all things, hopeth all things, endureth all things. Charity never faileth!"


Paul Woods' laughter as a young man and his courage in battle as a soldier stands as tall as his 6-foot 4-inch height. His charm, intelligence, kindness, fairness, and understanding, his keen awareness of public events and politics, his love of sports, and his hard work - these things make him special and a delight to all who know him. He is a man among men! We honor him today on his 99th birthday.