Edit Current Bio
UCB is written collaboratively by you and our community of volunteers. Please edit and add contents by clicking on the add and edit links to the right of the content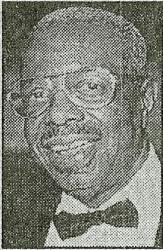 He was born in Richmond, VA. He later died on 3-9-1997.
Basic Info
Attachments
Relations
Organizations
Accomplishments
Schools
Employers
A dentist and prominent community leader, Dr. Oliver Dabney was a native of Richmond, Virginia, who moved to Lackawanna, New York when he was a child. He attended the city's public schools. After graduating from Talladega College in Alabama, Dr. Dabney received his dental degree from Meharry Medical College in Nashville, Tennessee in 1946. During World War II, he was a private first class in the Army's special training program at Meharry College.
After practicing dentistry in Lackawanna for several years, Dr. Dabney entered the Air Force as a captain during the Korean War. He later opened his practice in Buffalo. In addition to his private practice, he served on the staff of the Jesse Nash Health Clinic on Buffalo's eastside for many years.
Dr. Dabney served for 25 years on the local board of the National Association for the Advancement of Colored People and was chairman of its annual dinner. In 1992, he was presented the NAACP's Medgar Evers Award for sustained commitment in the struggle for civil rights. In 1993, he received the Erie County Dental Society's first Dr. Francis J. Stone Award for distinguished service. The YMCA also honored him for his longtime support of its Humboldt and East Side branches and the old Michigan Avenue YMCA.
He was a member of the American, New York State, Eighth District and Erie County dental societies. He also was active with several fraternities, including the Alpha Kappa Boule Educational Fund and Bennett Wells Post 1780 American Legion. He served on the Future Directions Task Force of the Erie County Medical Center and was a longtime member of New Hope Baptist Church.
He was married to the former Lois Blayton for 47 years and they had three daughters; Anita, Margaret and Olivia farrow. A sister Marietta Gayle is also an Uncrowned Queen.