Edit Current Bio
UCB is written collaboratively by you and our community of volunteers. Please edit and add contents by clicking on the add and edit links to the right of the content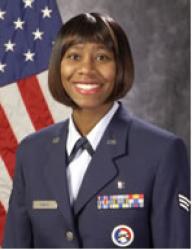 Born on 10-8-1974. She was born in Shawnee, Oklahoma.
Basic Info
Attachments
Relations
Organizations
Accomplishments
Schools
Employers
Senior Airmen Nekia C. Mbaye is an educated, world traveler, single mother and outstanding representative of the younger generation of Uncrowned Queens. Nekia, born on October 8, 1974, began her adventurous life at an early age. Her greatest thrill is touching people different from herself and walking on ground where others have yet to tread.

In 1992, Nekia graduated from Shawnee High School in the top ten percent of her class. She was also listed in the "Who's Who of High School Students". Her greatest joy came from dancing on the Shawnee High School Pom Pom Squad, finding her extraordinary musical talents and discovering herself as a Christian woman, deeply concerned with the problems of others.

After graduation, Nekia followed her first love, caring for others and spreading the gospel. She devoted the next years of her life to missionary work. In 1992, Nekia was assigned to a team of missionaries working in Toluca , Mexico . After learning to speak Spanish, she shared her faith with children and other teenagers. More than a year later later, Nekia left Mexico with many fond memories and a deeper dedication to missionary work.

In 1994, Nekia joined a team going to Pune , India. The team spent a year working with Indian children, teenagers and adults. Their efforts centered on teaching God's word and working with economic and social development projects. After returning from India , Nekia entered college where she became a member of Phi Theta Kappa, the National Honor Society of Junior Colleges. In 1997, she married. On July 5, 1998 a son, Adama N. Mbaye was born. Several years later, Nekia became a single parent totally responsible for her young son.

In November of 2001, Nekia left her family to enlist in the United States Air Force. Out of 100 trainees, she was one of two basic training honor graduates and the only newly enlisted airmen to graduate as a Distinguished Graduate in Technical Training. In the summer of 2002, her mother joined Nekia at her first assignment in Japan . In this new job Nekia was a Bio-environmental Engineering (BEE) Technician responsible for occupational health, industrial hygiene and environmental protection.

The Air Force provides Nekia many opportunities. She is a part of the Base Honor Guard and president of the forum for Junior Enlisted Airmen. Twice she was awarded "Airman of the Quarter" for her group and once for the entire base. She was also honored as "Group Airman of the Year" two years in a row. Nekia was named "BEE Technician of the Year" for the entire U.S Air Force. Two of her most memorable events are receiving an incentive ride in an F-16 fighter jet plane and meeting Air Force Area Commander General Jumper while working in Kuwait as part of "Operation Southern Watch" and "Operation Iraqi Freedom". In 2004, Nekia was selected to have lunch with Chief Master Sergeant Murray, senior enlisted person of the U.S. Air Force.

Nekia enjoys teaching children, singing in the choir and being on the church prayer team. She love's spending quality time with her son and with her niece who live with her.

Being in the military has opened Nekia's eyes to a new way of life. God has slowly lifted the covers from her eyes and helped her reach new heights in understanding the relationships and the purpose He has for her. Nekia has overcome the mindset of a military system that assumes a low ranking person has very little knowledge. On the other hand, the military has benefits such as housing and schooling for her child. Most importantly, God has changed the view of her faith from a walk that only includes Nekia and God to one that includes others.

Through salvation, Nekia knows her life has a purpose- to use whatever position God wills as a doorway to bless others and to live a life of integrity and faith in God.