Edit Current Bio
UCB is written collaboratively by you and our community of volunteers. Please edit and add contents by clicking on the add and edit links to the right of the content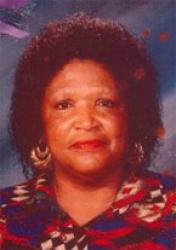 She was born in Hughes County, OK.
Basic Info
Attachments
Relations
Organizations
Accomplishments
Schools
Employers
Nealo Jackson was born in Hughes County, Oklahoma. She comes from a family of 15 children. Mrs. Jackson has seven children. She has a CDA Certificate in Child Development Education. She enjoys working with the community programs such as Senior Citizens Programs. She also enjoys gardening when she was able to can vegetables.

Mrs. Jackson served as Vice President for the Senior Citizens. She assisted in preparing menus for the Senior Citizens at Lima Senior Citizens Center. Some of her responsibilities included buying groceries for the center and planning activities whenever needed. She is a member of First Baptist Church in Lima where she has helped with meetings in the church and preparing meals and helping with programs with the church. She has been active in the Lima Community Action Agency.