Edit Current Bio
UCB is written collaboratively by you and our community of volunteers. Please edit and add contents by clicking on the add and edit links to the right of the content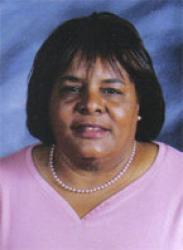 Mildred Hemphill Burkhalter
She was born in Pierce, OK. She is accomplished in the area of Education.
Basic Info
Attachments
Relations
Organizations
Accomplishments
Schools
Employers
Mildred Hemphill Burkhalter was born in Pierce, Oklahoma. At age nine her family moved to Rentiesville, Oklahoma. Mildred is the youngest of six children. Her loving parents were Alton and Pauline (Greenleaf) Hemphill.

She realized at an early age that education is one of the major factors to success. She graduated from Checotah High School in 1973; later received her Bachelor of Science Degree in Business Administration and Management from Northeastern State University at Tahlequah, OK. She has completed twenty-eight hours towards her Masters in Education from NSU and nine hours in education from the University of Phoenix.

Mildred has worked fifteen (15) years in the field of business and eleven (11) years in the field of education. She presently is a secondary school teacher for Checotah Public Schools in Checotah, Oklahoma, working with special and at-risk children.

In 1991, Burkhalter was elected to a four year term as Mayor of Rentiesville, Oklahoma, thus becoming the first woman to hold that office. She has subsequently been re-elected for three consecutive terms and will come up for re-election in April, 2007. Rentiesville is a rural, historic, all black town, which lies in the southeastern part of Oklahoma.

During her tenure as Mayor of Rentiesville, Burkhalter has obtained more than $2.5 million in grant funding on behalf of her constituents. These grants have been used to purchase land, construct community buildings, a senior citizens meal program, a community park, park pavilion, new street work and other developments. Burkhalter believes that with more funding and resources she will affect even greater change in her community. She also asserts that her "community must stay focused on what is vital to our growth, our longevity and viability of this historic, all Black town; and economic development is the key to the vitality of any community." She received the Walmart's small town leadership award in the amount of $5,000, Kansas Colored Infantry Recognition, and local chapter of the Gardenia Club Outstanding Women Award.

Burkhalter has served and presently serves on numerous professional boards and committees: National Conference of Black Mayors, NCBM Black Women Caucus, Muscogee Nation Checotah Creek Indian Board, Oklahoma Governor's Buffalo Soldiers Corridor Board, and Oklahoma Conferences of Black Mayors. Some of her professional affiliations include: the Gardenia Club, Optimist Club, Warrior School Restoration Inc, National Education Association, Oklahoma Education Association, Checotah Schools Education Association, NAACP and others. She is a longtime faithful member of Rentiesville First Baptist Church, and serves in various positions such as: Sunday School Assistant Superintendent, Usher Board President, a Choir member, a member Mission Society, Youth Director, and Assistant Youth Sunday School Teacher.

Burkhalter enjoys traveling, gardening, garage sales, sewing and writing. Burkhalter has two children: Frederick L. and Franchelle L., four grandsons, Jeylon, Fredrick Cody, Kobe, Isaiah and a very supportive friend, R.L. Harris.