Edit Current Bio
UCB is written collaboratively by you and our community of volunteers. Please edit and add contents by clicking on the add and edit links to the right of the content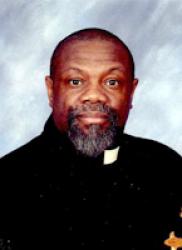 He was born in Buffalo, New York.
Basic Info
Attachments
Relations
Organizations
Accomplishments
Schools
Employers
Michael Chapman was born and raised in Buffalo, New York. He is the third child born to Herschel Chapman Sr. and the late Irene Salter Chapman. A product of Buffaloâ??s east side community, he attended Public School #53 and East High School. At East High, he was an All-High Athlete who excelled in football, track and basketball. After graduation, he attended State University of New York at Geneseo on a basketball scholarship.

Dr. Chapman has earned a Bachelor of Arts degree from Medaille College. He received a Master of Arts in Pastoral Ministry and a Master of Arts in Divinity from Christ the King Seminary. He was also bestowed an Honorary Doctorate in Divinity from the Religious Justice Ministry of Jesus The Liberator Seminary of Religious Justice. In his early career, he was employed by Dresser Industries and served as the Executive Director of the Humboldt Branch of the YMCA of Western New York.

A life long member of the St. John Baptist Church, where his father is a Deacon, Rev. Chapman was baptized at an early age by the late Rev. Burnie C. McCarley. As a lay member, he taught Sunday School and participated in praise and worship. In 1988 he was called to the ministry and licensed by his mentor, the late Reverend Dr. Bennett W. Smith, Sr. Dr. Chapman served as Dr. Smithâ??s assistant and Youth Minister at St. John for 13 years. In 2001 Dr. Bennett W. Smith, Sr., then Pastor of St. John, was called home to be with the Lord. In 2002 Dr. Chapman was installed as the Pastor of the St. John Baptist Church.

Through his exemplary pastoral spirit, leadership, teaching, administrative skills and vision, he has propelled St. John Baptist Church into the forefront as a major player in the economic and community development initiatives of the City of Buffalo and Western New York region. He serves as Pastor and CEO of the 28-acre St. John Baptist Church campus that includes the 3800 member congregation, McCarley Gardens Housing Development, St. John Tower Senior Housing Development and the Smith Family Life Center. In addition, Dr. Chapman has established the following subsidiaries: St. John Fruit belt Community Development Corporation (single family home construction), St. John Town Homes Development, Inc., and St. John Community Development Corporation.

In May 2007, ground was recently broken on the St. John Baptist Hospice, Buffalo House. This is Dr. Chapmanâ??s vision for the first in the nation faith-based community facility to provide Hospice Care and transitional services. This faith-based project is unprecedented and will provide a welcomed addition to the Buffalo Niagara Medical Campus. Since becoming Pastor, Dr. Chapman as, a gifted sermoner and teacher, has expanded St. Johnâ??s membership and reorganized the Churchâ??s Ministries to over 37. He continues to realize his vision through the establishment of Blessed the Lord Ministries, which serves as a vehicle for the promotion of Gospel concerts, motivational and teaching conferences and publications.

A devoted husband and father, Dr. Chapman has been married for 33 years to Ina Rebecca Doss Chapman and they have five children: Kenyatta Jameel, Mikeyta Irene, Tiffany Oria, Tera Elizabeth and Michael H. Dr. and Mrs. Chapman have 17 grandchildren. In addition to his parents, he is also the brother to Stephen, Herschel Jr. and Marilyn Chapman.

Minister Dr. Michael Chapman is a humble spirit continuing to â??Press Toward the Markâ? of the high calling of Jesus Christ.