Edit Current Bio
UCB is written collaboratively by you and our community of volunteers. Please edit and add contents by clicking on the add and edit links to the right of the content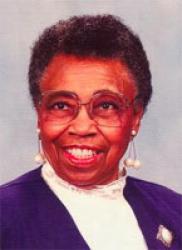 She was born in Tatums, OK.
Basic Info
Attachments
Relations
Organizations
Accomplishments
Schools
Employers
Most people who know or know of her have declared Mentha Mitchell Varner a "Living Legend". She was one of seven, selected nationally to receive the "Living Legend award from the National Caucus and Center on Black Aged, Inc. Included in the seven, along with Mentha, was Supreme Court Justice Thurgood Marshall at a ceremony in Washington, D. C. in 1977. In 1994, Congressman Bill Brewster made an official entry in the Congressional Record citing her for her many achievements.

The Congressional Record described Mrs. Varner as a trailblazer who accomplished many "firsts" in her lifetime as an educator, administrator and community leader. She taught school 40 years and was with the Ardmore Early Childhood Center for 3 years. In fact, after President Lyndon Johnson announced the Head Start Program, it was Mentha who helped start the program in her native city of Ardmore, Oklahoma. She was the director of Head Start at Dunbar School. As chairman of the Ardmore Head Start Drive Committee, she successfully raised $70,000 for the renovation of Dunbar School to give the Head Start program a permanent home. The school was later named, Mentha Mitchell Varner Head Start Center. In 2004, the program moved to the Will Rogers School. Oklahoma Governor Brad Henry and other dignitaries were on hand to unveil the plaque on the door leading to the newly renamed Mentha Mitchell Varner Library.

She was the first Black teacher to work in the Ardmore City School System where she was acclaimed one of the best teachers in the state. One of her proudest accomplishments as a teacher was the work that she did on the revision of the Oklahoma State Curriculum Guide for Elementary Schools and the Kindergarten Curriculum Guide. She is remembered by many in Ardmore for having impacted so many lives because of her efforts to get scholarships for students, encouraging them to go to college, helping them to get jobs, and in some cases providing personal financial assistance to students. Described as a true humanitarian, many in Ardmore and Carter County can attest to the fact that she fed and clothed many children.

Mentha has worked with every organization or board in Ardmore in some capacity in her 91 years of life. Some of them include the Oklahoma State Democratic Party, Ardmore Chamber of Commerce, Carter County Health Advisory Board American Legion Auxiliary Post 263, Memorial Hospital of Southern Oklahoma Trustee Board, United Fund Board, Mental Health of Southern Oklahoma Board of Directors, American Association of University Women, Sooner Girl Scouts Advisory Board, Carter County Jail Advisory Board, Ardmore Tourism Board of Directors and the Ardmore Centennial Commission.

Her awards, citations and recognitions from across the United States including recognition from several Congressmen and two Presidents, are numerous. She has been inducted into the Oklahoma Women's Hall of Fame, H.F.V Wilson Community Center Hall of Fame, Southwest History Museum Hall of Fame and the Ardmore City Schools Hall of Fame. She is a life member of the American Red Cross of Carter County where she has served for 52 years, member of the Eastside Community Association, Inc. for 52 years, serving as President for 25 years, a member of the NAACP for more than 40 years and has been a member of First Baptist church where she has served as Sunday School Superintendent for 52 years.

This native Oklahoman was one of ten children born in Tatums, Oklahoma to W. E. and Mary Mitchell. The family relocated to Ardmore in 1930. Mentha graduated from Douglass High School in 1932. In 1936, she earned her Bachelor of Science in Elementary and Physical Education from Langston University. She and her husband, T. C. Varner, Sr. (deceased) have one son, Thomas Carl II, a daughter-in-law, Dorothy, two grandchildren and five great grandchildren.

Her hobbies are reading, sports, and traveling. She has been to every state in the United States including Hawaii and a motor trip to Alaska, and has traveled to 15 countries. She is a writer, having written an editorial column for the Daily Ardmoreite for ten years and she is the author of a book, Words of Wisdom, published in 1997. Mentha's life has been well spent helping to make life better for her fellowman!