Edit Current Bio
UCB is written collaboratively by you and our community of volunteers. Please edit and add contents by clicking on the add and edit links to the right of the content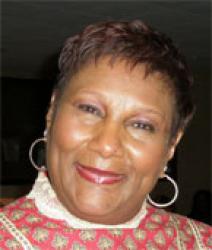 She is accomplished in the area of the Arts.
Basic Info
Attachments
Relations
Organizations
Accomplishments
Schools
Employers
She is an actress, historian and an advocate for health in the African American community. She works tirelessly to remain active in her community. She is Mary Craig, one of the many "Uncrowned Queens" of Western New York. After receiving her BS in Political Science and BA in Communication Arts and Sciences from Dominican University in Illinois, Ms. Craig went on to teach theater and playwriting classes at Buffalo State College. She then became an officer of Marketing and Sales at Goldome Bank For Savings. In this role, she developed training materials for employees across the country. After five years in this position, she then moved on to work for Key Bank of New York where she was Vice President of Consumer Communications and Sales Training. Seven years later, she left the banking world and became the Executive Director of the Humboldt Branch YMCA. She started a School-Age Child program and Kinder-Care program. She also increased the branch's total membership by 150 percent.

Her background in communications enabled her to write several grants for a SAT preparation course and a Theater Education program in her YMCA. After a three-year stint working for the "Y", she took on the role of Executive Director of a not-for-profit organization called Buffalo Builds. This organization was designed to assist minorities who wanted to enter the building trades. She continued on the path of community involvement by becoming the Vice President of Advocacy. As Vice President, she was key in the creation and implementation of the statewide advocacy program. Continuing to work for the welfare of the minority community, Ms. Craig started her work with the American Heart Association in 2002. She was the Senior Director of Minority Health Initiatives for the Northeast. Here she developed programs to increase awareness of heart disease and stroke amongst minorities and other high risk groups. Currently, she is the President/CEO of the Erie Niagara Health Education Center (EN-AHEC).

In addition to her outstanding professional career, Ms. Craig has made her mark in the performing arts. She has appeared in numerous Artie-award winning plays such as "Ain't MisBehavin'", "A New Brain" and "Avenue X". Ms. Craig has also won the Artie award for Best Actress in a Musical for her work in "Cookin1 at the Cookery" and for her work in "Sophisticated Ladies". Ms. Craig has stepped away from the spotlight on numerous occasions. She co-authored a play about the comediennes Pearl Bailey and Moms Mabley entitled "What Good Ole Days?", which premiered in 2005. She created a pilot for a television series entitled "FDC", which is currently being marketed to distributors.

Ms. Craig uses her talents as an actress to preserve local history. She performs as Mary Talbert on the Forest Lawn American Historical Tour in conjunction with the African American Historical Society. She also performs as Mary Talbert in the Pan American Exposition Centennial Celebration. Mary is involved in her parish community of St. Martin de Porres Roman Catholic Church. She sings in the choir, serves on various boards and councils and works to be an example to future queens of the community.

Submitted with permission of Khari Waits.