Edit Current Bio
UCB is written collaboratively by you and our community of volunteers. Please edit and add contents by clicking on the add and edit links to the right of the content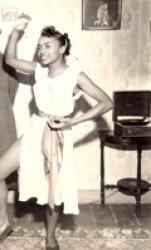 Margie Delores Brooks Johnson
Born on 10-20-1930. She was born in Petersburgh, VA.
Basic Info
Attachments
Relations
Organizations
Accomplishments
Schools
Employers
Margie Delores Johnson was born October 20, 1930 in Petersburgh, Virginia to Vernon and Margaret Gilliam Brooks and parents of Peggy Brooks-Bertram. Margie lived most of her life in Baltimore, Maryland and received her primary and secondary education in the public schools of Baltimore. She graduated from Dunbar High School in June 1948. AT age eighteen, she married Bernard Johnson, who was then nineteen, at St. Francis Xavier Catholic Church, October 30, 1948. Margie and Bernard had four sons: Bernard Melvin (deceased), Kevin Charles, David Patrick and Michael Randolph.

Margie believed in dedication both personally and professionally. For seventeen years, she worked at the Social Security Administration as a Benefits Authorizer. She resigned from SSA to finish raising her family. She eventually returned to work part-time as a sales person for the Sears and Roebuck Company.

Her early religious training and participation in the Catholic Church included membership in both St. Francis Xavier and St. Katherineââ?¬â?¢s where she served as the Choir and Musical Director. Margie was also an influential member of St. Katherineââ?¬â?¢s Parish Counsel and Womenââ?¬â?¢s Club where she was instrumental in providing the organization and direction of both groups. The Baltimore City School System benefited for many years from her input as she actively participated in the Parent-Teachers Association. Many of her neighbors remembered her effective leadership as President of the Kenwood Avenue Neighborhood Association.