Edit Current Bio
UCB is written collaboratively by you and our community of volunteers. Please edit and add contents by clicking on the add and edit links to the right of the content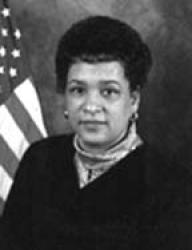 She was born in Buffalo, NY.
Basic Info
Attachments
Relations
Organizations
Accomplishments
Schools
Employers
Lynn Gilmore Canton was appointed Executive Director of the Federal Emergency Management Agency (FEMA) during in the administration of President Bill Clinton on June 1, 2000. She was responsible for overseeing the Agency's personnel and management issues, employee development diversity, labor partnership, and strategic planning.

Prior to her appointment to this post, she served as the Agency's Region II Director in New York City. In this position, she was responsible for the administration of Federal emergency preparedness, mitigation, and disaster response and recovery programs for New Jersey, New York, Puerto Rico, and the United States Virgin Islands. Ms. Canton experienced twenty-two natural disasters in Region II during her tenure which included hurricanes, floods, ice and snowstorms, tornadoes, and wild fires. The federal expenditure for disaster relief in the region was over three billion dollars.

In March 2001, Ms. Canton was named the Assistant Deputy Comptroller for Management Audit in the Office of the State Comptroller, H. Carl McCall.

A native of Buffalo and a resident of Clifton Park, New York, Ms. Canton has dedicated her twenty-five year career to public service. Throughout her career she has had extensive experience managing people, programs, and budgets.

Prior to being appointed to the FEMA post, Ms. Canton served as Executive Director of the Division of Minority and Women's Business Development for the Department of Economic Development of New York State. During her tenure in that post, Ms. Canton also served as Chairperson of the New York State Affirmative Action Advisory Council and of the Task Force on the Status of Women in the New York State Department of Economic Development.

Earlier in her career, Ms. Canton served for four years as a member of the New York State Board of Parole. She also worked for the State Division for Youth, the Executive Chamber under the administration of Governor Hugh Carey, and for the Division of the Budget.

Ms. Canton holds Bachelor of Arts and Master of Science degrees from the State University of New York at Albany.