Edit Current Bio
UCB is written collaboratively by you and our community of volunteers. Please edit and add contents by clicking on the add and edit links to the right of the content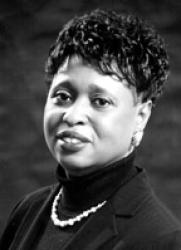 She is accomplished in the area of Business.
Basic Info
Attachments
Relations
Organizations
Accomplishments
Schools
Employers
Jennifer J. Parker is the CEO of the Black Capital Network LLC, a consulting company that provides strategic planning and seminars to support business development. The company's signature website, (www.thebcn.com) is an informational portal developed to educate, empower, and promote small businesses and the African American Community.

Ms. Parker is a graduate of Johnson C. Smith University and the University at Buffalo Law School. Following law school, she targeted her career to the field of insurance and personal injury law where she worked in numerous corporate positions including the Alternative Dispute Resolution (ADR) Coordinator for a major insurance company.

Under Ms. Parker's leadership, the Black Capital Network has planned and hosted small business workshops, networking events, an annual Economic Empowerment Conference and since 2005 the Harlem Book Fair in BUFFALO. In 2002, the company hosted their first annual Economic Empowerment Conference in an effort to highlight the importance of economic development and obtaining the skills necessary to help build successful businesses. In 2003 the company introduced OraBind Communications, an integrated marketing company offering a variety of promotional services for small businesses, organizations and published authors.

Ms. Parker has given presentations on networking, entrepreneurship and economic empowerment. She is presently a host for Buffalo Matters, a local TV public affairs show. She has received a number of business and community awards. Ms. Parker is a member of the board of directors for the Buffalo Urban League, WNED TV (PBS), Buffalo Niagara Convention and Visitors Bureau, Leadership Buffalo (Vice President of PR and Marketing) and the Advisory Board for Canisius College Women's Business Center. In addition to her community work, she serves as a consultant on business development projects and continues to expand her knowledge of urban solutions. Ms. Parker has recently formed a partnership to create Parker Trent Public Relations.

Accomplishments and recognitions include the following:

2005 Recipient of the NCCJ (National Conference for Community and Justice) Communications Award

2005 Recipient Buffalo Business First "Women Who Mean Business Award"

Named as Person of the Week (July 8, 2005) by WKBW - Channel 7

Member of Leadership Buffalo Class 2003

Named by the Buffalo News as a Citizen of the Year (2003)

Featured in Volume 1 of Uncrowned Queens: African American Women Community Builders of Western New York

2002 Recipient of the Iota Phi Lambda Sorority (Beta Phi Chapter) Business Award


Ms. Parker is married to Melvin A. Parker, a Buffalo attorney and is the mother of three.