Edit Current Bio
UCB is written collaboratively by you and our community of volunteers. Please edit and add contents by clicking on the add and edit links to the right of the content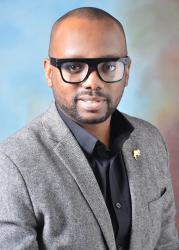 He is accomplished in the area of Community.
Basic Info
Attachments
Relations
Organizations
Accomplishments
Schools
Employers
Jamil is an accomplished leader, a visionary, entrepreneur and an advocate for change who looks to leave a legacy of his own here in Western New York.

By day, Jamil is the Coordinator for Citizen Participation & Information in the Mayor's Division of Citizen Services. His role is to promote civic engagement between City of Buffalo residents and local government. He also hopes to empower residents to take a more active role in becoming leaders in their respective neighborhoods. Jamil operates under the notion that "it takes a village", hoping that the message of inclusiveness and working collaboratively with city government resonates with the citizens. In his time there, Jamil has worked with block club and community leaders in helping to address their quality of life concerns, he manages the Urban Fellows Internship Program for area college students, coordinates many of the Mayor's events in City Hall, and, after a short hiatus, recently reintroduced the Mayor's Citizen's Participation Academy for City of Buffalo residents.

Outside of City Hall, Jamil wears many hats. He serves as the Treasurer and Charter member for the Buffalo Urban League Young Professionals, an auxiliary of the Buffalo Urban League, where, along with his fellow board members were able to garner national attention for the group within the first year of its launch. Jamil is also the Founder of Capital Change, an organization dedicated to young professionals that promotes civic engagement & philanthropy through fundraising. Capital Change's signature event, CHANGEMAKERS 30 Under 30 Awards, recognizes a diverse group of dynamic young professionals under the age of 30 in or from Western New York who excel in their respective careers.

Jamil had a vision to recognize and give a platform to young people who often were overlooked for the work that they do in business and/or in the communities in which they live and work. Through Capital Change, Jamil and his lovely wife Salley launched the S&J Scholarship Foundation, to help promote higher education for youth in inner city municipalities. Jamil has always been at the forefront of service that expands beyond the walls of Western New York. He helped organize a volunteer trip to New Orleans after Hurricane Katrina, raised money and collected clothing for the victims of the earthquake in Haiti and has worked to raise money for Keep A Child Alive, the initiative founded by Alicia Keys that supplies medical treatment for women and children affected with AIDS in Africa. Jamil is also a proud member of Phi Beta Sigma Fraternity Incorporated, which is celebrating 100 years of Brotherhood, Scholarship and Service this year.

Jamil is also a small business owner of the brand management firm, Crews Brand Marketing, a digital marketing agency that offer services in the areas of web and graphic design, talent brand management, event procurement, social media management and small business consultation. His work has been internationally recognized and has allowed his company to secure contracts with clients in London, Los Angeles, Toronto and, of course, Western New York.

Jamil is the proud husband of Salley Nycole Crews, who is a star in her own right, having appeared twice on the hit reality show La La's Full Court Life and works closely with La La and her team as a makeup and beauty consultant.

When asked how he manages to do all the he does, Jamil enthusiastically answers with just one word "GOD"! He adds "I know I am following in the footsteps of many who have come before me, and it's an obligation of mine to continue the legacy. How I am able to do it, though, God did that".