Edit Current Bio
UCB is written collaboratively by you and our community of volunteers. Please edit and add contents by clicking on the add and edit links to the right of the content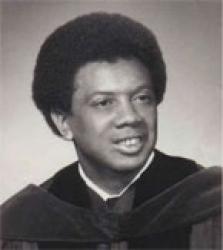 Born on 4-17-1933. He was born in Hallsboro, North Carolina. He later died on 4-18-1993.
Basic Info
Attachments
Relations
Organizations
Accomplishments
Schools
Employers
In 1974 when James Freeman, Ph.D. graduated from University at Buffalo Medical School, he was the universityâ??s first African American student to hold a doctorate and earn a Doctor of Medicine (M.D.) degree. In the United States, he was one of forty African Americans to hold the distinct honor.

James J. Freeman, M.D., PhD was born in Hallsboro, North Carolina to Esther and Monroe Freeman on April 17, 1933. His maternal grandmother, Susan Freeman was central in his life until he was fourteen years old and he moved to Wilmington with his parents. Jamesâ?? formal education began in a one room school house in rural North Carolina and it was there that his interest in science and medicine developed. His interest continued to be nurtured at Williston High School in Wilmington and later at Morehouse College in Atlanta, Georgia. After graduating with a Bachelorâ??s degree in Biology, he attended Long Island University, Brooklyn, New York and completed a Master of Science in Biology (Physiology).

His dedication to his studies and the pursuit of knowledge led him to Georgetown University, Washington, D.C. where he earned a Ph.D. in Physiology, with a minor in Biochemistry. While at Howard University, Dr. Freeman was an Assistant Professor in the Department of Zoology. During his tenure, he graduated over three hundred students, many who later earned doctorates and medical degrees. His success at Howard led to his recruitment by the University at Buffalo Medical School.

While pursuing his medical degree, Dr. Freeman was a clinical instructor and later a clinical assistant professor in the Biochemistry Department. After completing his medical training, Dr. Freeman launched a private practice in Obstetrics and Gynecology at 50 High Street from 1978-1984. Later he was appointed to the City of Buffalo as Medical Director for the Division of Drug Abuse. Continuing to pursue his research interests in womenâ??s health, he published thirty three papers during his career. An excellent physician and instructor, Dr. Freeman was also a researcher at Sloan-Kettering Institute for Cancer Research ( Division of Cornell University) and E.R. Squibb and Sons in New Brunswick, New Jersey. Continuing to be challenged by his interest in womenâ??s health, Dr. Freeman joined the staff at the Nassau County Obstetrics and Gynecology Outpatient Clinic, and at Fort Bragg, North Carolina, he worked as an independent medical contractor in obstetrics and gynecology.

Dr. Freeman served as a Deacon at St. John Baptist Church and he was a member of Omega Psi Phi Fraternity. A devoted member of the Masonic brotherhood, James belonged to St. John Lodge # 16 Free and Accepted Masons, Bison Consistory # 29, Ancient And Accepted Scottish Rite of Free Masonry, Prince Hall Affiliation, Hadji Temple #61, Ancient Egyptian Arabic Order, Nobles of the Mystics, Shrine of North and South America, Prince Hall Affiliation Improved Benevolent and Protective Order of Elks of the World, Pride of Western New York #1502, and Frederick Douglas Council #3.

Very proud of his African American heritage, Dr. Freeman spoke very fondly of his
grandmother, Susan Freeman, who was the granddaughter of a slave. She was 101 when he graduated from medical school and she sent him a shirt to wear which cost her $2.98 at a North Carolina country store. Although Dr. Freeman had attended a rural one room school and his father had only completed the third grade, he was inspired and given more reason to cherish his education.

Most of all, James was a devoted husband who cherished his wife, Allie. He displayed his broad interest in womenâ??s health when Allie complained about hospital gowns and he set about designing a discreet but medically accessible gown. The state-of- the-art patient garment design won him U.S. Patent# 4570268.

It was family that meant the ultimate to him. James was proud of his three sons and would have loved the families of James Jr., Patrick and Russell. Dr. Freeman died on April 18, 1993.