Edit Current Bio
UCB is written collaboratively by you and our community of volunteers. Please edit and add contents by clicking on the add and edit links to the right of the content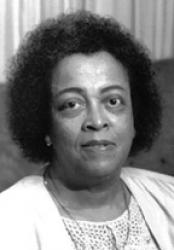 Born on 9-29-1925. She was born in Atlanta, GA. She was accomplished in the area of Community. She later died on 9-12-2020.
Basic Info
Attachments
Relations
Organizations
Accomplishments
Schools
Employers
Hortense Butts Nash is the eldest of two daughters born to George and Ruby Tucker Butts. Hortense was born on September 29, 1925 in Atlanta, Georgia. Two years later, her sister Gloria was born in the family's new hometown of Ashville, North Carolina. In 1937, the Butts family relocated to Buffalo, New York.

Hortense attended the Buffalo Public Schools and continued her education at Buffalo State Teacher's College where she earned a Bachelor of Science in Elementary Education, in 1947. Ten years later, she was awarded a Master of Education degree in Educational Administration and Supervision from the University at Buffalo. Hortense also completed post-graduate studies in Corrective and Remedial Reading at Canisius College. In 1987, she received an OSHA Industrial Safety Certificate from Cornell University.

An accomplished musician, Hortense has pursued organ and liturgical studies with Helen Townsend Garretson, Squire Haskin, Dr. Roberta Bitgood, and Elaine Gardner. All of her instructors were church organists and former Deans of the American Guild of Organists.

Hortense began her teaching career in 1947 as a 6th grade teacher. She points out that her salary at that time was $2,900 a year. She was also a Corrective Reading Teacher at Martin Luther Christian School and in the Buffalo Public Schools system. She has mentored adults and children as a volunteer for Literacy, Inc. and also for an education project sponsored by the Erie County Chapter of The Links, Incorporated.

Hortense notes, "during my years of teaching, musicianship, and volunteerism, I have seen and responded to changes and innovations involving rules, techniques, and tastes. In these situations of transition, especially in the contexts of church music, I have been encouraged to help parents to encourage their children to learn the rudiments and basics so they will be able to perform and compete globally." Her life is guided by a scripture from Micah 6:8, "What does the Lord require, but to seek justice, be merciful, and walk humbly with God?"

In addition to teaching in the Buffalo Public Schools , Hortense has been an active volunteer in her community and church. Her affiliations include Life membership in the NAACP, the American Association of University Women, a 30-year member of the American Guild of Organists, and the National Association of Negro Business and Professional Women's Clubs, Inc. In the latter organization, she has served as Chapter President and Director of the national Choir, and is a life member. She is also a member of the New York State and the Buffalo Retired Teacher's Associations; a 50 year member of Delta Sigma Theta Sorority, Inc.; Erie County Chapter of The Links, Incorporated; Jack and Jill of America, Inc.; Pi Lambda Theta National Honor Society; and the Friend's Book Club.

Hortense was the Treasurer of Women for Human Rights and Dignity, Inc. for thirteen years and volunteered with that group at Albion Correctional Facility, Erie County Holding Center and "Dignity Circle" Planning Committee. She is a former member of the historic Michigan Avenue Baptist Church and served as the Sunday School Superintendent and organist during the years she attended the church from 1942 to 1952. She is a member of St. Philip's Episcopal Church and has served as the organist and adult choir director. She has also held the offices of Junior and Senior Warden of the Church, Stewardship Committee Chair, Assistant Superintendent of the Sunday School, Sunday School Teacher, Acolyte Mother and Vestry Member.

Hortense has been honored by numerous organizations. She received the National Sojourner Truth Award from the National Association of Negro Business and Professional Women's Clubs in 1986 and the St. Philip's Episcopal Church Men's Club Service Award during the same year. The Buffalo Chapter of Jack and Jill of America, Inc. presented her the This Is Your Life Award and the Urban League recognized her as the Mother of the Year in 1980. She also received the 2002 Chairperson's Award from Women for Human Rights and Dignity, Inc.

Hortense and her husband, Jesse E. Nash, Jr. have jointly been recognized by the Buffalo NAACP, The Medgar Evers Award; AKA Sorority, Xi Epsilon Omega Chapter, The Black Family Award; The Buffalo Kwanzaa Committee, Community Service Award; Juneteenth, Inc., Parade Marshals; and the Buffalo Urban League, Family of the Year Award.

Hortense and Jesse have been married for over 50 years and have three children, Jesse III, George Raymond and Deborah Nash Franklin.

Hortense keeps busy, in her retirement by reading and collecting biographies and mysteries, travel, crossword puzzles and word games and of course, music.