Edit Current Bio
UCB is written collaboratively by you and our community of volunteers. Please edit and add contents by clicking on the add and edit links to the right of the content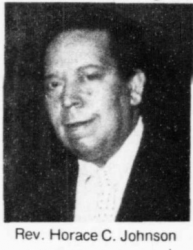 Born on 12-6-1921. He was born in Meridian, MS. He was accomplished in the area of Politics. He later died on 10-22-1987.
Basic Info
Attachments
Relations
Organizations
Accomplishments
Schools
Employers
Horace C. "Billy" Johnson, a native of Meridian, Mississippi, was born on December 6, 1921. He moved to Buffalo with his parents and siblings when he was a two year old child. His father was the legendary, Rev. Sidney O.B. Johnson, pastor of Lloyd's Memorial Congregational Church and his mother was Hannah Barnes Johnson. His sister was Josephine Holmes, who also had an illustrious career.


Horace was a graduate of Talladega College in Talladega, Alabama. He took graduate courses at Long Island University, Howard University School of Theology and the University at Buffalo. He was an ordained Baptist minister and served as the associate minister of Promiseland Baptist Church.


Horace was a World War II veteran. After the war, he served as Democratic Committeeman in his district. His political career was extensive: he was the 13th Ward Democratic Supervisor, Masten District, a member of Erie County Board of Supervisors from 1963-65. He served six consecutive terms as the Masten District member of the City of Buffalo Common Council.


He had also worked as the Coordinator of State and Federal Aid Programs for the City of Buffalo. He retired in 1982 from this position.


During his lifetime he held many civic and community organization posts. He was the former field counselor for the Buffalo Youth Board. He was Chairman of the Community Action Board at the time of his death.

He was married to the former Mamie Beale for 38 years. The couple had three daughters, June Johnson Stanford, Patricia and Holly.


He was 65 years old at the time of his death on October 22, 1987. He is buried at Forest Lawn Cemetery.