Edit Current Bio
UCB is written collaboratively by you and our community of volunteers. Please edit and add contents by clicking on the add and edit links to the right of the content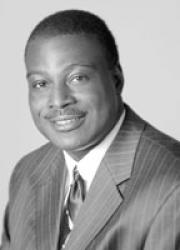 He was born in Buffalo, New York.
Basic Info
Attachments
Relations
Organizations
Accomplishments
Schools
Employers
Herbert L. Bellamy, Jr. is the current president of 1490 Enterprises, Inc. 1490 is a community-based organization that provides social services to senior citizens and the surrounding community. Under the umbrella of 1490, heââ?¬â?¢s also the President of 1490 Estates, 1490 Meadows, which are living quarters for approximately one hundred seniors and certified disabled persons, and 1490 Manor. The Manor is the newly renovated building, which is designed for classroom and office space. Mr. Bellamyââ?¬â?¢s vision is to keep adding intelligence to the organization. ââ?¬Å?I believe in providing options to our members.ââ?¬

Mr. Bellamy is the host of the 1490 Community Show, which airs every Saturday at 10:00 am on the Buffalo Access Channel.

Mr. Bellamy is the son of Herbert and Irene Parham Bellamy. Mr. Bellamy, Sr. was the founder and first President of 1490 Enterprises, Inc. A life long resident of the City of Buffalo, Mr. Bellamy is married with three children. He is an active board member in many community-based and professional organizations.