Edit Current Bio
UCB is written collaboratively by you and our community of volunteers. Please edit and add contents by clicking on the add and edit links to the right of the content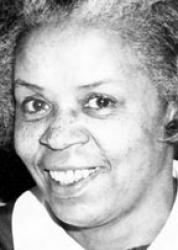 Geraldine Rolston Mayfield
Born on 5-6-1919. She was born in Montreal, Quebec. She later died on 4-20-2000.
Basic Info
Attachments
Relations
Organizations
Accomplishments
Schools
Employers
Geraldine Augusta Rolston was born on May 6, 1919, in Montreal, Canada, to parents Jeri and Marion Emily Clay Rolston. Her family moved to Ft. Erie, Canada, and then to Buffalo, New York, where she became a United States citizen while still an infant. She graduated from Bennett Park School No. 32 in 1934, and from Hutchinson Central High School in 1938.

After working briefly as a teacher aide at a nursery school, Geraldine began working for the United Steel Workers of America (USWA) international union. When she was hired at the union in 1939, she became the first African American member of the secretarial pool in the USWA's office in Lackawanna, New York. During the early 1960s, she became the first African American receptionist at the USWA District 4 central office in Buffalo. In 1972, she was promoted to private secretary to the director of USWA District 4; thus making her the first African American district secretary in the history of the union. Her duties included hiring, training, and coordinating the secretarial staff in district offices throughout New York State, managing the financial operations of all district offices, serving as secretary-treasurer of the district's compensation committee, and maintaining records of union membership. Until she retired in 1983, she was known as "Geri from the Steel Workers" by all of her colleagues and associates in the community.

Geraldine also had a number of interests outside of work. She took several post-high school courses during the 1960s in order to grow professionally as a legal and business secretary. She also studied the German language at the International Institute in Buffalo so that she could effectively communicate with her brother's wife in Buffalo and her in-laws in Germany. After retirement, she joined several bridge clubs, earned Master status in the American Contract Bridge League, and was elected treasurer of the Humboldt Bridge Club. She learned to use a computer to write a number of autobiographical stories and to keep financial records for one of her bridge clubs. She also enjoyed time with her family.

Geraldine's husband was the late Alfonso Mayfield. They had two children, Marion Lela and the late Alfonso Geri Mayfield. She is survived by four grandchildren and five great-grandchildren following her death at the age of eighty on April 20, 2000.