Edit Current Bio
UCB is written collaboratively by you and our community of volunteers. Please edit and add contents by clicking on the add and edit links to the right of the content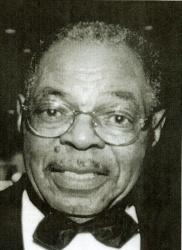 Born on 5-13-1920. He was born in Calhoun Falls, SC. He later died on 5-17-2002.
Basic Info
Attachments
Relations
Organizations
Accomplishments
Schools
Employers
General Gene Bass was a community leader and local tennis icon who gave many inner-city children a rare opportunity to learn the sport. Bass was a pioneer with a list of firsts for Buffaloââ?¬â?¢s African American community. He was one of the first African American men to graduate from Canisius College, among the city's first black police officers and became one of the first local African American coaches when h e coached womenââ?¬â?¢s tennis.
He was an all-around athlete, but tennis was his passion. After seeing his first tennis match, Bass embraced the sport that was traditional white and upper-class. He learned the game when he was 30 from local pros and became dedicated to sharing it with African American youngsters, most of whom only had been exposed to basketball and football. Youth tennis became a lifetime commitment and some of his students went on to win college scholarships for their play.
Bass, a Buffalo teacher for 30 years, first introduced it to students at a junior high school where he was teacher. He went on to develop programs at the JFK Center, Humboldt Park and martin Luther King Jr. Park for inner city youths. He continued to instruct youngsters until shortly before his death. "Tennis has give me a great life, and I just want to share it with as many people as I can", Bass said in 1996.
He was born in Calhoun Falls, South Carolina and his family moved to Buffalo when he was 6 months old. He was a baseball and basketball star at Hutchinson Central High School. Baseball was his first love. He played for the Buffalo Negro Giants, a barnstorming team that played regional exhibition games.
Bass served in the Army, 446 Signal Corps, during World War II in North Africa, France and Sardinia. He graduated from Canisius College in 1951 and received a masterââ?¬â?¢s degree from Buffalo State College in 1962.
He worked as a special education teacher and served as project administrator for several city high schools. At the same time, he was a police officer for 19 years and ran the Buffalo Police Athletic League. He retired from the school district in 1985.
In 1983, he took over a losing Canisius women's tennis team. Five games were the most the team had ever won. During his first year, the team won only two games but they were successful after that, winning 10 straight and 12 overall. He retired from that position in 1996, with a 129-62 record.
He received many honors and awards for his trailblazing life and community service. He was a member of Bethel AME Church for over 60 years. He was also a member of Omega Psi Phi Fraternity. He and his wife, the former Beatrease Love, were married in 1959. They had two sons, Leonard and Kevin, eight grandchildren and five great grandchildren.
He is buried at Forest Lawn Cemetery.