Edit Current Bio
UCB is written collaboratively by you and our community of volunteers. Please edit and add contents by clicking on the add and edit links to the right of the content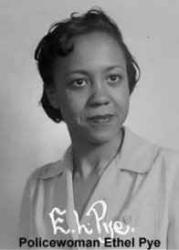 Born on 8-15-1918. She was born in Leeds, AL. She was accomplished in the area of Healthcare. She later died on 11-8-2010.
Basic Info
Attachments
Relations
Organizations
Accomplishments
Schools
Employers
Ethel Lacey Pye was born in Leeds, Alabama. According to her family she was a member of an enterprising family and at 12 years old started selling peanuts at her mother's barbershop. She also helped to sell toiletries at a nearby mining camp. Ethel moved in with a family in Birmingham in order to attend high school. Inspired by Mary McLeod Bethune, who she heard speak at the 16th Street Baptist Church, she attended Bethune-Cookman College. After college she moved to Buffalo, NY to stay with a relative. She met her future husband, Melvin Pye at this time. During World War II, Melvin fought in Europe and Ethel became a policewoman. She was the first Black policewoman on the Buffalo force and worked the vice squad, sometimes undercover.

After the War, the couple settled in Cleveland before moving to Glenville, Oho. The Pyes went into business, stating several including: Pye Day Nursery, Pye's Sweet Shop, Smoke-a-Roma Bar-BQ, and Pye's Frozen Desserts. They also operated group homes for delinquent children and developmentally adults. Mrs. Pye earned a teaching certificate from Kent State University and taught at Cleveland elementary schools for about 10 years.

In 1970, the Pyes bought a nursing home that had lost its license and turned it into the Inner City Nursing Home. Mrs. Pye became a licensed nursing home administrator and helped expand the home to 100 beds. In 1995, the family opened a new, $6 million main building next to the old one. It is named Fairfax Place.

Mrs. Pye belonged to Women Speak Out for Peace and Justice. She was a peace delegate to the Soviet Union during the Cold War. She was president of Duffy Liturgical Dance Ensemble and a trustee of the Glenville Area Council and the Northeast YWCA. She belonged to Phi Delta Kappa and several civic groups. She co-founded the nonprofit New Day Press at Karamu House, which published "Blacks in Ohio" and other cultural works.

Mr. and Mrs. Pye were named, along with their four children, 1980's Family of the Year by the Urban League of Cleveland. She was inducted into the Glenville Hall of Fame and named a Distinguished Woman in Healthcare by the Visiting Nurse Association Healthcare Partners of Ohio.

Mrs. Pye died on November 8, 2010. She is buried in Lake View Cemetery, Cleveland, Ohio.