Edit Current Bio
UCB is written collaboratively by you and our community of volunteers. Please edit and add contents by clicking on the add and edit links to the right of the content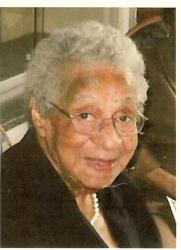 Delilah Louise Jackson King
Born on 6-15-1908. She was born in Homestead, PA. She was accomplished in the area of Education. She later died on 10-18-2011.
Basic Info
Attachments
Relations
Organizations
Accomplishments
Schools
Employers
Delilah Louise (Jackie) Jackson was born on June 15, 1908 in Homestead, Pennsylvania. She was the only child of Jessie and Dora Jackson. Delilah remained in Homestead most of her young life until leaving to attend Wilberforce University, where she studied Elementary Education. Delilah became affectionately known as "Jackie" during her college years, short for her given surname of Jackson.
Upon graduation from Wilberforce University, Wilberforce, Ohio, she gained experience by student teaching in Lawrenceville, Virginia. After her teaching practice, she moved back to Homestead to live, work and care for her parents. Eventually, she met her late husband William King in the early 1950s when he worked for the New York Central Railroad and frequently traveled to the nearby city of Pittsburgh, Pennsylvania. After moving to Buffalo, the couple married in the mid-1950s. William and Delilah have one child, a daughter, Diann. Delilah graduated from Buffalo State College and fulfilled her dream of becoming an elementary school teacher.
Delilah went on to work in the Buffalo Public School system for over 20 years, first as a substitute teacher, then as a permanent teacher at public schools 74 and 93. She was loved and respected by her colleagues as ell as the many students she taught over the course of her teaching career.
Delilah resided on Woodlawn Avenue for over 40 years. She then moved to the Niagara Lutheran Home and Rehabilitation Center. On Sunday, June 15, 2008, Delilah's family and closest friends celebrated her 100th birthday at the Lutheran Church Home and in June of 2011 Delilah celebrated her 103rd birthday.
In addition to her daughter, Diann King Farley, Delilah had two grandchildren, Kenneth Farley and Karyn Farley-Coulter and 5 great-grandchildren, Nicolas, Kenny Jr., Nikalah, Laryn and Myel.
Delilah was loved beyond words by her family, who will miss her greatly. In many ways, she was a person who kindled our spirits by her love, her deeds and her commitments. Delilah was a trusted and endeared friend to many and was truly an inspiration to all who knew and loved her.

A Tribute to Delilah "Jackie" King
"My Teacherâ??s Journey"
103 years of celebrated birthdays. I've come a long way. Over a century I must say. I've been through some valleys and on a few mountains. Sometimes up, sometimes down. But my caring never stopped. Iâ??ve been through stormy rains and still I remained. I've been through the joys and sorrows that life brought. I've been through many sons and again I sing a song in my heart that rings, "Thank you Lord and to you I cling". I was here for quite some time and still embraced life. I've enjoyed loving, laughing and being a devoted wife. I've had the pleasure of a loving husband way back when. His name was William King and he was one of my dearest friends. I was given the gift of a daughter, Diann who was my friend, confidant and biggest fan. She always said that I was her biggest fan! There is no love like a motherâ??s love I've learned. I have loved freely as it couldn't be earned. I made many holiday dinners, desserts, and fruity drinks. I perfected my gift to children in my purpose to teach.
I started my journey in Virginia when I was very young, learning all of the skills to be a good teacher. All the while enjoying the southern hospitality, good food and easy living. Since that time many years ago, I have loved you all and you loved me too. I was grateful to God for all that He allowed me to do.
This journey was not easy but through it all Iâ??ve lived through wars and broken walls. I kept the faith through over 18 presidential terms. New radios, televisions, trains, plans and automobiles confirmed. I was full of wisdom that only time could have given.
No regrets for the life I was given. This world is a better place because of you and me. Keep smiling, loving and learning my friends. Always do what is in your hearts. Your blessings will not be withheld for the good in you. Keep your dreams alive and filled with hope. I believe that this is the key as I am a true witness of the paths that I have traveled.

Originally written in June 2008 in celebration of Delilah's 100th birthday, by Mary L. Walters, updated in October 2011 by Diann Farley.