Edit Current Bio
UCB is written collaboratively by you and our community of volunteers. Please edit and add contents by clicking on the add and edit links to the right of the content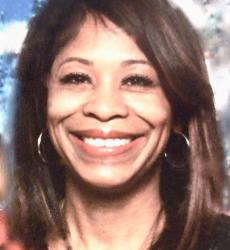 Mrs. Darlene K Copeland Bevill
Born on 3-28-1960. She was born in Buffalo, NY. She is accomplished in the area of the Arts.
Basic Info
Attachments
Relations
Organizations
Accomplishments
Employers
Darlene Copeland is a native of Buffalo New York. Currently making her mark as an international Fine Artist. She studied and received a degree at the State University of New York College at Buffalo.

Darlene grew up in Cheektowaga, a suburb of Buffalo and attended the Depew school system. Her father, William Copeland, was a professional boxer and steel mill worker at Republic Steel. Darlene's mother was an instructor and Erie County State employee worker.

Darlene's early works were sold in Allentown, the famous art district of Buffalo, New York. Her limited edition, one of a kind swimsuits were featured on the local Erie County television show, Buffalo Beat and sold in an upscale boutique in Amherst New York. She was featured in a board game about Buffalo and many times in the Buffalo Newspaper for her artistic endeavors. Darlene worked many years designing graphics for the Buffalo American Red Cross, and closely with famous writer Debbie Williams. She also designed graphics for the United Way and YMCA, producing award winning posters, brochures, t-shirts and annual reports. The American Red Cross of Greater Buffalo auctioned a few of her original paintings at major wine events to raise money for their cause. Darlene also worked for a short time designing for the General Motors Tonawanda Engine Plant. She served on the board of the Buffalo Inner City Ballet.

Darlene was the first black Graphic Artist to make her mark in many areas in Buffalo New York. The first artist to introduce paper Mache earrings to Buffalo's fashion scene. The earrings were sold in major art galleries and boutiques. She was the first to be hired as a Graphic Artist in Buffalo's corporate world. Darlene was well mentored and well supported by community leaders. She worked closely with Barbara Banks, (Al-Nisa Banks) of the Buffalo Challenger and was mentored by Gail Wells, Buffalo State University Advisor and always supported by Darlene White, a local office administrator.

Darlene is currently known by the name, Darlene Copeland Bevill. She lives in Arizona with her two sons and husband producing artwork that is sold around the world.

East High
High School
Class Year: 1979
Buffalo State College
Graduate
Class Year: 1986