Edit Current Bio
UCB is written collaboratively by you and our community of volunteers. Please edit and add contents by clicking on the add and edit links to the right of the content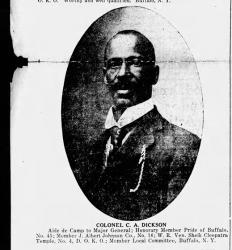 Born on 9-18-1854. He was born in Buffalo, NY. He is accomplished in the area of Community.
Basic Info
Attachments
Relations
Organizations
Accomplishments
Schools
Employers
In a 1913 newspaper article Charles A. Dickson described his parents in warm and loving terms. He wrote that his mother, Phoebe Ann Lane Dickson was "a witty and well-educated woman". A native of Albany, New York, he said his mother was of "Mohawk and Negro" parentage. His father, Ralph, was born in Miles City, Pennsylvania. His father was a "Negro from the East Indies" and his mother was a Pennsylvania Dutch white woman. The family were enumerated in the 1865 New York State census. Charles was listed as a 10-year-old, apparently the only surviving child of five that the couple had. Ralph's occupation was listed as teamster.

A review of the Buffalo City Directories and the census lists Charles' occupation variously as cook, janitor, hotel operator. At some point in his life, he decided to just use his initials and is identified as C.A. Dickson. It seems that he must have been a man of some means, however, as he sailed to Europe in April 1894 on a trip that he acknowledged was for an undetermined time period. He indicated he would be on a business trip and that his occupation was as a cook. Dickson's passport application provided an idea of what he looked like as he had to state characteristics such as height, complexion, shape of his nose, etc. He was active in Buffalo political, community and social activities. Newspaper articles identify him as active with the Buffalo Colored Republican League and the Knights of Pythias. He used the title Colonel as it seems he was an officer in a mason's group that used military titles.

Dickson had another important family connection. He was the nephew of Anthony Williams, a navy hero of the Battle of Lake Erie during the War of 1812. Williams was a gunner on the flagship of Admiral Oliver Hazard Perry and his heroic action during that war was documented in the record and in a painting that memorialized the battle. In September 1913, the Men's Club of St. Philip's Church organized a celebration to commemorate the centennial of the battle. Dickson and two other descendants, Moses Day and Mrs. Catherine Seaton were given gold medals in recognition of their ancestor. Dickson researched the military record of his ancestor and received confirmation of his service in a letter signed by Franklin Delano Roosevelt, Acting Secretary of the Navy.