Edit Current Bio
UCB is written collaboratively by you and our community of volunteers. Please edit and add contents by clicking on the add and edit links to the right of the content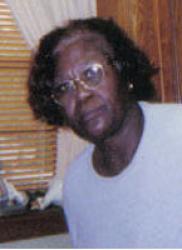 She was born in McKinney, TX.
Basic Info
Attachments
Relations
Organizations
Accomplishments
Schools
Employers
Annie Marie Noiel was born in McKinney Texas in 1939. She is a graduate of Douglass high school. She also has achieved an associate's degree in business studies.

Ms. Noiel joined the Oklahoma Sheriff's Department in 1987. Ms. Noiel achieved the rank of Sergeant, before being appointed a Lieutenant in 1998. She made history by becoming the first African American woman to achieve that rank in the Department. Lieutenant Noiel is described by a co-worker, who submitted her biography, as a person who was strictly by the book, but fair. She had the patience of Job and with her officers as well the inmates under her charge. She could calm the most unruly inmate just by taking the extra minute to listen to what the inmate had to say. Lieutenant Noiel received several awards with the Sheriffs Dept. including supervisor of the year. Her colleagues also described her as a very caring person. Lieutenant Noiel retired from the Sheriff's Department in 2000.

Lieutenant Noiel's nominator states that she was taught to be a better person and officer as a result of Ms. Noiel's mentoring. â??I learned a lot by having the privilege of working with this fine person through the years.â?

Lieutenant Noiel is a member of Faith Tabernacle Baptist Church. Ms. Noiel has six children and several grand children and great grand children. Her favorite hobbies are sports. She loves almost any type of sport whether she's watching or participating.