Edit Current Bio
UCB is written collaboratively by you and our community of volunteers. Please edit and add contents by clicking on the add and edit links to the right of the content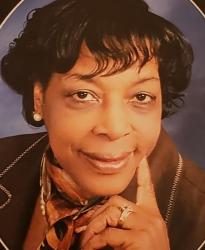 Born on 10-15-1943. She was born in Vicksburg, MS. She is accomplished in the area of Politics.
Basic Info
Attachments
Relations
Organizations
Accomplishments
Schools
Employers
Ada L. Deans was born in Vicksburg, Mississippi on October 15, 1943. She was raised and educated in Niagara Falls, New York. Her parents are the late Henry and Rosie L. Thomas. She is the youngest of four daughters. Her father Henry migrated to Niagara Falls in 1940 during the Second Migration of Blacks from the South in search of a better way of life. Henry found employment with the Union Carbide Corporation. Although, he left his family in Vicksburg, he traveled back and forth until he saved up enough money to purchase a home at 1115 Centre Avenue. In 1946, he was joined by his family in their new home. Ada was three years old at this time.

She began her political career in the Falls as a teenager, which consisted of voter registration and getting various candidates to Public office. She always advocated for change. She also participated in the sit-in demonstrations for equal justice and equality in the early sixties, under the leadership of Otis Cowart and the Congress of Racial Equality (CORE). After graduation from Niagara Falls Senior High School in 1961, she attended Virginia Union University in Richmond, Virginia. She later decided that it was not the place she wanted to be. There was racial tension all over Richmond. Once again, she returned home to advocate for civil rights. She volunteered in the campaigns of Arthur Ray for Niagara Falls School Board and Joe Profit for Niagara Falls Board of Supervision. Both candidates won their elections.

In 1966, Ada was employed at Kimbery Clark Corporation located on Royal Avenue in the Falls. In order to get employed at this plant, one had to pass a Literacy test. She often wondered why there would be a test to pack sanitary napkins and box tissue. Later, she found out this was another way of discriminating against Blacks. The factory closed down in 1972 and relocated to Wisconsin.

Ada and her family relocated to Buffalo, so she could continue her education and they purchased their first home in 1973. She immediately became involved in the political arena. She worked in many campaigns. She was the proudest to work in the campaigns of Arthur O. Eve for Mayor of Buffalo and the late Barbara Sims for City Court Judge. She obtained her Bachelor of Science Degree in 1975, and Master of Science in Education in1981, from Buffalo State Teachers College. Ada holds a Permanent New York State Teacher Certificate in PreK-6th grade. In addition to that, she completed 30 graduate credit hours receiving a Certificate in School Administration and Supervision, in 1991.

Ada was one of the corporate founders of the community based organization in 1976 which became the Genesee Moselle Association of Interested Neighbors Inc. (GAIN) at 1532 Genesee Street. She was elected Executive Director in 1978. Ada spearheaded many successful projects. Under the auspices of City Hall, the organization received funding for Human Service programs for youth and senior citizens. In addition to City funding, the New York State Preservation Program gave funds to help stabilize the community. Seniors and home owners received many benefits from the Minor Home Repair Program. GAIN provided employment for the youth, recreation and job training programs to keep them motivated.

Ada was instrumental in may initiates and several of today's community leaders, Murray Holman of Stop the Violence Coalition and Pastor James Giles of Back to Basics Ministry got their foundations from GAIN. As young leaders they were inspired to develop themselves and they learned community organizing skills. Along with Rev. John Long, Councilperson David Collins, the Wyoming Street Block Club and Deacon Brown; Ada was instrumental in bringing the residents to an agreement to allow St. Matthews Church School Building on East Ferry and Moselle Street to be acquired as a Safe House for Vive La Casa Refugees in 1984. Upon her recommendations the first neighborhood residents were employed to work in the facility.

She unsuccessfully ran for the Fillmore District Council seat in 1989. Again in 1991, she was the first African American female to run in a major Democratic election in the Fillmore District, losing the District by fifty votes. Ada has been a New York State Certified Foster Parent, a Fillmore/Masten District Democratic Committee person, Secretary of the Black Educators Association, Secretary of the Buffalo Black Caucus, New York State elected teacher delegate to the Representative Teachers Assembly, Youth Council Advisor for the National Association for the Advancement of Colored People, Worth Matron of Paramount Chapter No. 27, 2007, District Deputy Grand Marshall 2011, District Deputy Grand Matron District No. 7, 2012-2017 of Eureka Grand Chapter, Prince Hall Order Eastern Stars Inc., State of New York and an Office Manager for Team Obama for President in 2008 and 2012.

The National Conference of Christians and Jews police and community together program presented her a dedicated service award in 1982. Ada has received several awards for her contributions to the betterment of the quality of life for all mankind. Just to name a few, The Apple for a Teacher Award for excellence in teacher in 2002, from Beta Phi Chapter of Iota Phi Lambda Sorority Inc., Building A Better Buffalo Award, 2010 from Back to Basic Outreach Ministries, Inc., Annual Roses for Outstanding Women from Columnist Eva M. Dole, 2016 with certificates from the Honorable New York State Senator Timothy M. Kennedy, Mayor Byron Brown, City of Buffalo, County Legislator Betty Jean Grant and special Congressional Recognition from the United States House of Representative, Congressman Brian Higgins.

Ada believes in self-help and economic development. She was the owner operator of her own business, Deans Day Care Den along with her daughter, Pamela A. Deans from 2000-2014. She credits her business aspirations to her mother and father. Presently, Ada is a retired Buffalo Public School teacher in 2011, a member of the Buffalo Retirement Teachers Association, Member of the National Democratic Committee, Phi Delta Kappa International, Delta Sigma Theta Sorority Inc., Silver Lifetime member of NAACP, Sunshine Travelers Club, and a member of the St. John Baptist Church. She is a volunteer for the Fruit Belt Coalition, Back to Basic Ministries, and Stop the Violence Coalition. Ada was married to the late Johnnie L. Deans, an accomplished bass player and a counselor for the New York State Division of Youth.

She is the proud mother of Pamela and Willie Deans, four foster children, Charles and Lafayette Hunt, Tonya Maye, and Shelba Colbert. She has 15 grandchildren and 15 great grands. Her philosophy on life is, "Look forward, always help somebody and do the right thing.