Edit Current Bio
UCB is written collaboratively by you and our community of volunteers. Please edit and add contents by clicking on the add and edit links to the right of the content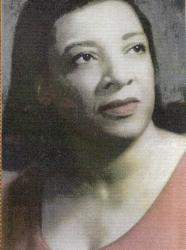 Born on 9-15-1925. She was born in Sparta, GA. She is accomplished in the area of Community.
Basic Info
Attachments
Relations
Organizations
Accomplishments
Schools
Employers
The Book of Life for this phenomenal woman, Zorie Bell (Mosley) Boling began in Sparta, Georgia, where she was born on September 15, 1925 to proud parents, the late Edward Mosley Sr. and LuBealie (Lattimore) Mosley. The eldest of 12 children, her parents migrated to Niagara Falls, NY, when she was an infant. Because it was easier to find work up north, her family was one of the first African-American families to move there.


Growing up on 27th Street, she attended local schools and her life was filled with support from a loving extended family which included great aunts and uncles and many cousins. Her name was actually Missouri Bell, but when her young cousin took her to school, the officials did not understand and spelled her name as: Zorie Bell. Family gatherings always included music, food and dance with her great aunt playing a guitar and another playing the piano, but she remembered that in her mother's house there was always God.


Her mother, grandmother and great grandmother were employees of the famous Marigold Restaurant in Niagara Falls, New York and her Great Aunt Eileen's image was used on the restaurant china, cookbooks and advertisements. Their personal recipes were also cooked and served.


A cherished member of her family, she was affectionately called "Lady" and as a young lady, she caught the eye of a handsome soldier who asked for her hand in marriage. She became the wife of Floyd Boling, Sr. and continued the tradition of large families. She and her husband, a decorated war veteran and Carborundum employee, were the proud parents of 12 daughters and 4 sons.


Raising a large family through the 1940s and 1950s and today, is no easy task for any mother,
but Zorie, as a virtuous woman, was an outstanding mother who taught her children to be strong, get a good education, teach the young, care for the elderly, to always honor your mother and; to walk humbly with and fear no one, but the Lord. She also helped her parents raise the children of her younger sister who slept away early in life.


As a member of the Amal Ahieman Club, of St. John A.M.E, Church, Zorie and the other members were
known to be some of the strongest African-American women in Niagara Falls, NY, the likes of which have not been seen since. As a community activist and volunteer, Zorie walked side by side with these
women working at the Niagara Community Action Program, Track II Betterment, Inc., Bell Aircraft, the City of Niagara Falls Recreation Department, and retiring from employment from the Niagara Falls School District, where she worked in a classroom for students with special needs.


Zorie, along with other members of her family and friends, later founded the "Old Timers Picnic," which organized annual gatherings for pioneer families for the purpose of sharing, caring, friendship and celebrating family legacies. The organization is known today as "The Black Pioneers of Niagara Falls."


She was a member of the Niagara County Black Achievers Award Committee and was also a recipient. She was a member of the Community Action Committee which was organized during riotous times in our country after the assassination of the late Dr. Martin Luther King Jr. The committee members built positive community relations with the police department and established Youth Patrols in the city to help. They also held special community events bringing guest speakers in like: Shirley Chisholm and Charles Evers, the brother of slain Civil Rights Activist, Medgar Evers.


Zorie took pride in and enjoyed her membership in the Jordan Garden Mothers' Club which organized events for the families of Jordan Gardens, with a specific focus on the youth. She was a member of the committee which organized the first "Black Experience" a community celebration at the newly opened City of Niagara Falls Convention Center. She received a commendation for her community service from Senator Antoine Thompson.


Zorie had God given talents which she used to promote activities for youth and the general community. She loved poetry and would write her own poems and plays. One of her plays called, "Mama," was performed by some of the most talented young people in Niagara Falls, NY, who continue to demonstrate their own God given talents throughout their adult lives. Zorie's favorite poem was "The Negro Mother," by Langston Hughes, and she recited it at many community events while reminding her children whenever they complained, "Life for me ain't been no crystal stair."


A world traveler, she was a member of Teele's Travel Club. Zorie visited many parts of the world by land, by sea and air. She visited the Motherland of Africa, going to Senegal with her daughters, walked the streets of Jerusalem, rode a camel in Egypt, danced in Rio De Janiero, traveled to Paris, Rome, Brussels, Czechoslovakia, London, and cruised the Mediterranean and Caribbean. She also made it a point to visit as many states in the United States as she could, her favorite being Hawaii. Even with all of her travels to other parts of the world, her family was the "world" to her and the visits she shared with them were the best. There was no place like Home.


Zorie visited the White House in her travels. After living through Jim Crow Laws, segregated communities, hearing stories of slavery from primary sources, and witnessing multiple discriminative practices in our country, she was pleased to see the inauguration of our first African American President, just before she passed.