Edit Current Bio
UCB is written collaboratively by you and our community of volunteers. Please edit and add contents by clicking on the add and edit links to the right of the content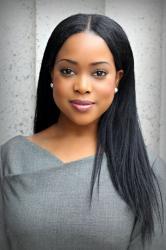 Mrs. Yetunde Adeola Odugbesan-Omede
Born on 8-9-1987. She was born in Newark, NJ. She is accomplished in the area of Community.
Basic Info
Attachments
Relations
Organizations
Accomplishments
Schools
Employers
Yetunde A. Odugbesan-Omede has the power to unite and inspire people by her words. For her, the passion for change, leadership and politics began at a young age. She is a Nigerian-American and an outstanding example of what it means to be a Leader for Change.
Recently, Yetunde was chosen as one out of 30 Most Intriguing Africans in New York by Applause Africa Magazine. She was also chosen by Eminent Leaders Magazine as #1 on a top 20 list of the Most Outstanding Nigerian and was also selected as Eminent Leader's-Emerging Personality of the Year. She is an international motivational speaker, entrepreneur, TV/Radio personality, educator, author, writer, humanitarian and philanthropist.

Born and raised in New Jersey, Yetunde A. Odugbesan-Omede, is the CEO and Founder of Yetunde Global Consulting LLC., a management consulting firm which specializes in leadership development and training, organizational management and global business strategies. She is also the Founder and Executive Director of Young Womans Guide, an organization that provides mentorship opportunities, women empowerment events, resources and opportunities to give back and get involved with various philanthropic and humanitarian initiatives geared toward women and girls development. She is also the creator of Putting Your Best Self Forward, an online forum that provides personal and professional advice.

Yetunde is currently a Ph.D (ABD) candidate at Division of Global Affairs Rutgers University in New Jersey, where she is working towards obtaining her doctoral degree in Global Affairs. She is also an adjunct faculty member of Political Science at Rutgers University where she teaches courses on comparative politics. She is a graduate of the United Nations Worldview Institute, an executive training program for business executives and professionals in the field of Global Business and International Affairs. She is also a graduate of the Eagleton Institute of Politics. She received her master's degree in Global Affairs with a concentration in International Law from Rutgers University. And received her bachelor's degree in Journalism and Media Studies with a double minor in Organizational Leadership and Africana Studies from Rutgers University. Yetunde's doctoral research focuses on political corruption and its effects on governmental trust and performance in both local and state government. Her research interests in government transparency, public trust, ethical leadership, human rights, youth development, public policy and social entrepreneurship has influenced her academic background, profession and purpose.

Yetunde's various passions and mission to pay it forward is often recognized in the various philanthropic and humanitarian initiatives she lends herself to. Yetunde is the Global Ambassador for Black Girls Unite Africa! Inc. She is a Board of Trustee for Red Thread Foundation for Women, Board Member for New York Needs You (NYNY) Young Leaders Board and Vice President/Board of Directors of Friends of Teboho, Inc., (FoT) an organization who works to support programs and activities worldwide, with a particular focus in Africa, aimed at assisting vulnerable, at-risk, and orphaned children and adolescents. Yetunde is currently a New Leaders Council Fellow. She served as a distinguished Eagleton Institute of Politics Fellow at the New Jersey State Ethics Commission. She is a member of the 101% Society, Young Professionals in Foreign Policy, United Nations Association of New York, Young Professionals for International Cooperation, Global Women Leadership Collaborative and a mentor coach for various organizations. Yetunde is a search commitee member for Rutgers University Presidential Search. She was the Assistant Editor for Public Performance and Management Review (PPMR), a leading peer-review academic journal that addresses a broad array of influential factors on the performance of public and non-profit organizations. She is the President and Founding Member of Sigma Iota Rho National Honor Society for International Studies Rutgers University chapter. Yetunde was the President of Rutgers University Student Association of Global Affairs and Vice-President of Rutgers Graduate Student Government Association. She is involved in the Clinton Global Initiative (CGI) Annual & University Meetings. Before her involvement with CGI, Yetunde was selected to attend a meeting for Young Leaders in Miami, Florida where she personally met President Bill Clinton. Yetunde is the recipient of numerous academic, leadership and public service awards.

As a member of Global Women Leadership Collaborative (GWLC), Yetunde traveled to Nigeria with a distinguished delegation of New Jersey city and state government officials to foster partnerships with women government officials in Nigeria and throughout Africa. She was hosted by the 1st Lady of Nigeria, Dame Patience Goodluck Jonathan and Chair of Diaspora Affairs Hon. Abike Dabiri-Erewa. Yetunde met and spoke with various top government women leaders in Nigeria to advocate for youth development and leadership empowerment. Also during Yetunde's past trip to South Africa, Yetunde taught 7th graders life skills and emotional development at Amstelhof Primary School in Capetown, South Africa. Yetunde's passion as a young humanitarian is to promote human welfare and social reform that will empower the youth. She has traveled to many other countries and continues to be an ambassador for change here in America and throughout the world.

Yetunde has extensive training in communication strategies and public speaking. She has mastered seven categories of public speaking under the guidance of New Jersey Orators. Her extensive experience includes organizational leadership development, public relations, community organizing, research analysis, public speaking, social and human rights advocacy. Yetunde has worked on creating various conferences, lectures and symposiums on women empowerment and leadership development and training. Yetunde's practical approach to effective leadership development inspires action and achieves results by developing leadership competencies for executives, young professionals, budding entrepreneurs and students (high school to graduate level). Her passion for excellence and results has made her a sought after motivational speaker and leadership consultant, whose tips & tools can be applied immediately to bring meaningful change to one's business, personal life or organization. She has been interviewed and featured on numerous media outlets and has been invited to speak at various government functions, award ceremonies, conferences, seminars and more.

Yetunde's passion to foster a spirit of service and civic engagement and to encourage more people to public service led to the co-authorship of a published book titled, "A Call to Serve: Quotes on Public Service."

Yetunde believes that it is her responsibility to encourage, inspire and motivate others to be the best that they can be. Her mission is to pay it forward.